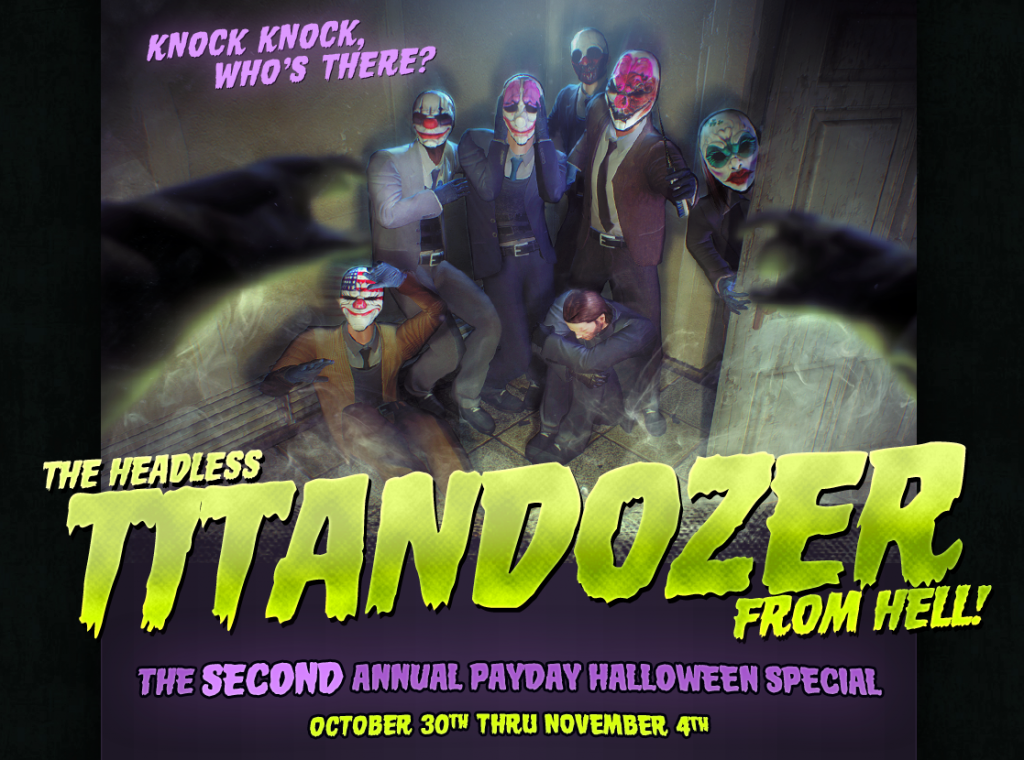 Update 45 changelog
Hotfix size: 182.3 MB
Features
Brought back the Halloween heist
Added the Headless Titandozer From Hell
Added the "Psycho Knife" melee weapon for free to all community members
Added an additional 36 mask slots for you to use, expanding total mask slots by 100%
Brought back the Halloween masks and patterns
Added two new Halloween masks, "The One Below" and "Lycanwulf", exclusvely received for free through the Humble Halloweekly Bundle at https://www.humblebundle.com/weekly
Added a new song called "This Is Our Time" as a selectable track in the Jukebox
Added a new song called "Clowns Are Scary" as a selectable track in the Jukebox
Added a new achievement called "Fifth Nightmare"
Bug fixes
Fixed an issue on Hoxton Breakout day 1 where players could walk outside of the intended parts of the heist
Fixed an issue where the player could get 100% dodge through skills and other means
Fixed a crash related to the Body Bag Case Equipment
Please note: If you can't see the new masks, restart Steam.
PLEASE NOTE: IF YOU HAVE MODS, YOU WILL CRASH!
If you "suddenly" crash after the update, it's because your game is modified. Use the threads in the forum to solve your issue. Uninstall your mods if you can't start the game or wait until the mod developers have updated the mods to work with the game.
We've gotten a lot of crash logs recently that we can't do anything about because it's all about mods crashing your games.
If you have tampered with your game files, you've done so at your own risk knowing that it will affect your software.
As a last resort, e-mail us directly.
Have a great Halloween!
OVERKILL – a Starbreeze Studio.
Via: Steam Community