Frequently Asked Questions
For PAYDAY 3 Technical Support, please visit the Dedicated Support Page.
Hot Questions
Will we keep having matchmaking issues or are they solved?
The matchmaking issues are not yet solved unfortunately. The problem we're facing is not one of raw capacity, but a problem with the service placing people in the servers. To ensure that we don't make anything worse, we need to be certain that our intended fix works before we enact a solution. Fixing matchmaking and server stability is and will remain our number 1 priority until such a time that players can reliably play the game.
Why is the game always online?
When looking at what worked and what didn't with PAYDAY 2, we wanted to find a way to both avoid negative aspects like rampant cheating and add capabilities for the game to be more engaging and rewarding for our players base.
We also wanted to ensure we kept our commitments to the console community and maintaining one PAYDAY across all platforms. To deliver on that, and adding cross progressions, leaderboards and more, we need to ensure that every player is on the same version of the game. With that said, we are always looking for the best possible solution to improve player experience, and while we have not started on an offline mode as of today, it's definitely on the table. Multiple paths are currently being evaluated both from an experience and implementation perspective and we'll share more information when we have a clearer commitment.
When does the first post-launch heist come out? Will the release be delayed due to the matchmaking issues?
We're aiming for Q4 for the first post-launch heist in PAYDAY 3.
While our primary focus is to ensure the stablity of the game, the production of new heists and content are largely unaffected as they are made by a different team with different expertise.
Where can I leave feedback about the game?
We have a feature upvote page! It's the best way to help us collect and sort communtiy suggestions, either make your own post or upvote someone elses: https://payday3.featureupvote.com/
Are you making an offline mode?
We have not started working on an offline mode as of today. That said we haven't ruled it out as a possible safeguard to ensure PAYDAY 3 will remain always playable. We'll update you as soon as we have a more certain answer.
Can I use KB/M on Console?
The use of keyboard and mouse on consoles is not currently supported on either Xbox or PlayStation. We have seen your suggestions and are looking into adding support in the future.
Will there be any official modding in PD3?
No official modding support has been announced so far for PAYDAY 3. We are aware that our modding community is too commited to be stopped by that mere fact however, and we're looking how we can support modding.
If I buy a DLC on one platform, can I play it on the other platforms I own the game on?
PAYDAY 3 does not currently support the Cross Activation of DLC content. This means that if you own the Gold Edition on Xbox and the Standard Edition on PC, you'll only be able to access the content of each respective version on the platform where you own it.
Are you considering text or voice chat in the pre-game lobby?
We haven't started planning pre-game lobby text or voice chat. We'll update you as soon as we have a more certain answer.
Where can I find support for PAYDAY 3?
Content Questions
Will there be a battlepass for PAYDAY 3?
We have not confirmed any Battle Pass for PAYDAY 3. Continue to let us know what you'd prefer!
How do the favors work?
There are 4 heist-specific favors for each heist. When completing a heist, there's a high chance that a favor for a random heist other than the heist you completed will drop.
Restarting a lobby using the voting in-game will not spend the favor. Completing or abandoning the game will consume it.
Currently there's are no ways of increasing chances to get certain favors over another. We have seen your feedback and will discuss making favors more predictable or more clearly explained.
Are you changing how challenges work?
We don't have any intentions to change how the challenge system works at this moment. We are looking at several solutions to make the Challenge Book easier to read and understand, such as adding "recommended challenges" making knowing what to do next easier.
Which characters will be in PAYDAY 3 at launch?
We originally confirmed the return of the original gang, Dallas, Chains, Hoxton and Wolf.
We also recently confirmed the return of Joy, and revealed that newcomer Pearl is joining the gang.
Where is [character]?
We haven't confirmed the return of any of the PAYDAY 2 heisters, we'll be sure to let you know once we find any of them.
What DLC and other updates can we expect after release?
We're looking forward to sharing more details about PAYDAY 3's post launch plans closer to the release date. As of now, what we can say is that we will be releasing 4 additional heists, 4 tailor packs and 4 weapon packs within the first year.
What is included in the season passes?
The Silver Season Pass will include the first 6 months of DLCs, which will be 2 heists, 2 tailor packs and 2 weapon packs.
The Gold Season Pass will include the first year of DLCs, which includes 4 heists, 4 tailor packs and 4 weapon packs.
Our DLC model for PAYDAY 3 will be quite similar to what you're already used to in PAYDAY 2, and you will still be able to purchase the DLCs separately.
Will PAYDAY 3 have microtransactions?
Yes, you can buy PAYDAY Credits separately, however these are only for purchasing additional cosmetic items. These will not affect the gameplay. The PAYDAY Credits will be added post launch.
Will you ever sell C-stacks or C-stack gain boosters?
Technical Questions
The game crashes when using Skull of Liberty and DX12
DX12 is not supported, remove it from the starting options to prevent crashes.
I keep getting matchmake into empty lobbies, are you working on solving this?
Yes, this is something we hope to remedy further doiwn the line. As with the other questions, our focus right now is to ensure a stable experience, and this should also lead to fewer empty lobbies.
Does the game have Nvidia DLSS/AMD FSR?
PAYDAY 3 has Nvidia DLSS 2.5. The tech team is fully commited to solving all matchmaking issues before we resume discussions on integrating newer version of DLSS or FSR.
I can't find the Silver/Gold edition items on PS5, why?
These will be added in the October 5th update for PlayStation users.
I'm having issues with my Nebula Account, can I make a new one?
You should not make a new Nebula Account, all your game entitlements, DLC's pre-order bonuses and edition special items are tied to the Nebula Account you used when you first activated your game key. If you create a new account, these items will not be granted again.
Instead please contact our support: https://nebula.starbreeze.com/support
Will PAYDAY 3 contain Denuvo?
Which platforms support PAYDAY 3 crossplay and/or cross-progression?
PAYDAY 3 supports crossplay with all supported platforms, which means that you can play with your friends no matter where they prefer to play. You will also be able to avail of cross-progression, so you can heist from your preferred platform at any time.
Quality-Of-Life Questions
Will the game have in-game text chat & VoIP on consoles?
We are looking into these features. Right now the team is fully focused on ensuring stable matchmaking as our number 1 priority. After we are comfortable with where matchmaking is, we'll evaluate community-requested features such as these.
Will there be a quick-play/play random heist option?
The quick play option is being worked on and should be added in an update before end-of-year.
Any plans on recreating the jukebox feature from PAYDAY 2, letting us select or randomize music in the game?
More music to the people sounds like a great idea to our ears! We'll be focusing on improving matchmaking and networking, so while this will be worked on, we don't yet have a time-frame.
Can we have some sort of lobby filters to pre-set loud/stealth?
We understand the desire for this feature, it makes a lot of sense to group up like minded individuals so you can more easily coordinate playstyle. Right now, everyone who can supply an answer for this question is working on ensuring stable matchmaking, we'll get back to you once we know more.
Why can't we unready in lobbies?
This feature makes a lot of sense, it's been added to the list of community suggestions!
Can we have the crime.net server browser back?
This is not something we're looking into at the moment, we are looking at a quick play option to let you randomize what heist you play, but not returning the old crime.net browser.
Will you add the ability to rename loadouts so I can more easily keep track of my builds?
Added to the list of community suggestions!
Can you add the ability to mute the heist briefing loadout?
Added to the list of community suggestions!
Can we add more weapon & outfit slots?
Added to the list of community suggestions!
Are you adding a Safehouse to the game?
Added to the list of community suggestions!
Can we get more options for controllers? Dead-zone settings, aim assist and button remapping?
Added to the list of community suggestions!
Any plans on improving AI team mates? Helping other bots from downs or being commandable for instance?
Added to the list of community suggestions!
General Questions
I have the Collector's Edition of PAYDAY 3, and I haven't yet been invited to the Collector's Club
We're still finalising some details in regards to the Collector's Club and expect to invite all Collector's Edition owners starting next week.
Keep an eye out in your Email Inbox for an invite in the near future!
Where can I find other players to play with?
What engine is the game developed in?
Unreal Engine 4. We started developing the game on Unreal 4, so that's what makes the most sense for us to release. We're planning on upgrading to Unreal Engine 5 post launch.
What talent can we expect in PAYDAY 3?
Simon Kerr and Pete Gold, who have voiced Dallas and Hoxton since PAYDAY: The Heist, will reprise their roles in PAYDAY 3.
Damion Poitier will return as Chains, Siu-See Hung will return as Joy, and we're introducing Nicklas Berglund to take on the role of Wolf, and also Rebecca LaChance as the role of Pearl.
Where will the game take place?
PAYDAY 3 will take place in New York.
Will the game be available on consoles too?
Yes, PAYDAY 3 will be available on PlayStation 5 and Xbox Series X/S. Now that we're developing the game in the Unreal Engine we can ensure that the PC and console versions are the same game and not separate games.
How much will the game cost at release?
When will we get to see some PAYDAY 3 gameplay?
Who is the main composer for PAYDAY 3?
We're excited to continue our collaboration with Gustavo Coutinho for this game.
To get all the latest news on PAYDAY 3, sign up to our newsletter and follow us on social media.
Controls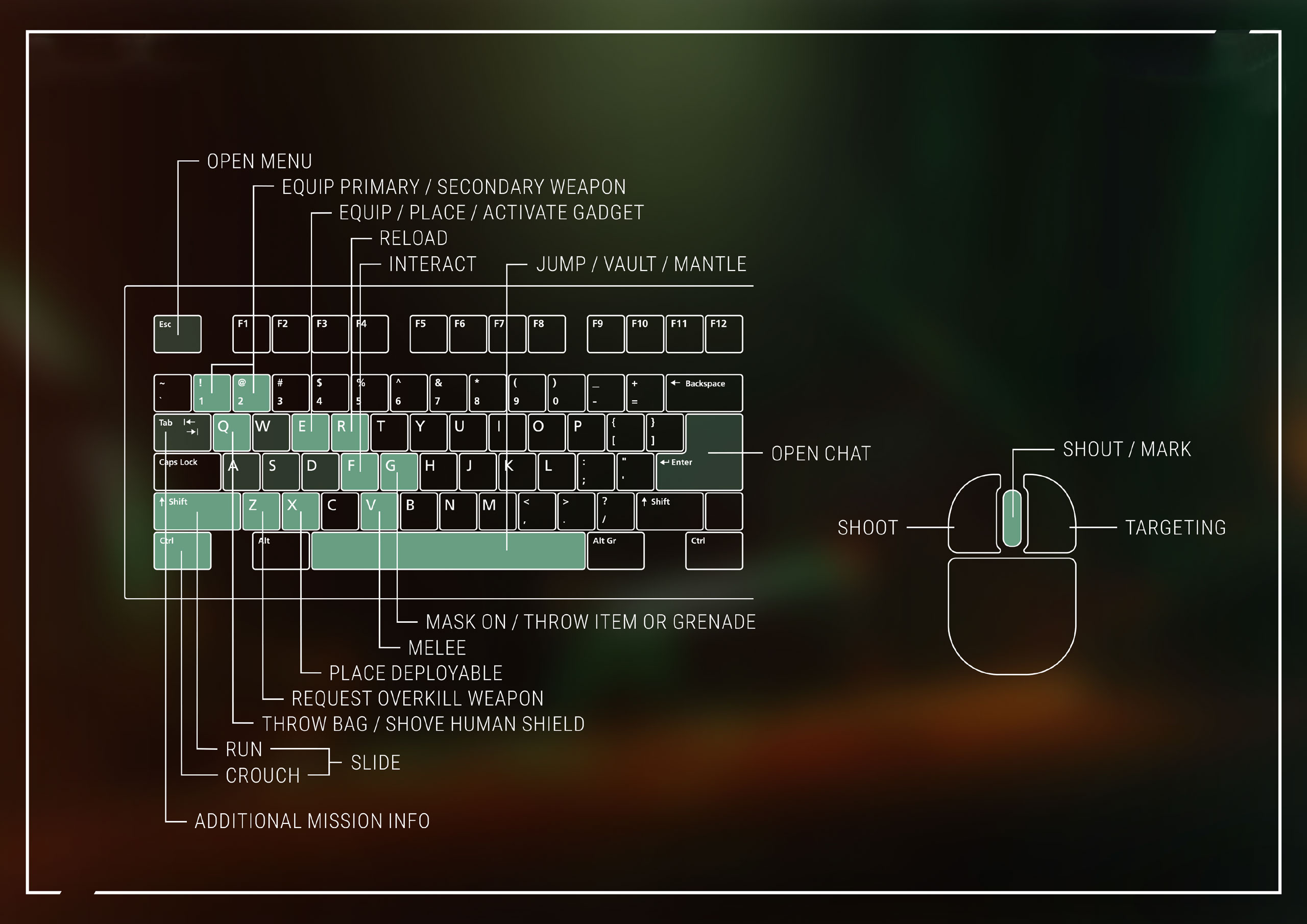 Key
Action
Movement

W

S

A

D

Move

Spacebar

Jump / Vault / Mantle

Shift

Run

Ctrl

Crouch

Shift

+

Ctrl

Slide
Interface

Esc

Open Menu

Enter

Open Chat

Tab

Additional Mission Info
Key
Action
Actions

Left Mouse

Shoot

Right Mouse

Targeting

Middle Mouse

Shout / Mark

R

Reload

E

Equip / Place / Activate Gadget

F

Interact

V

Melee

G

Mask On / Throw Item or Grenade

X

Place Deployable

Q

Throw Bag / Shove Human Shield

Z

Request OVERKILL Weapon