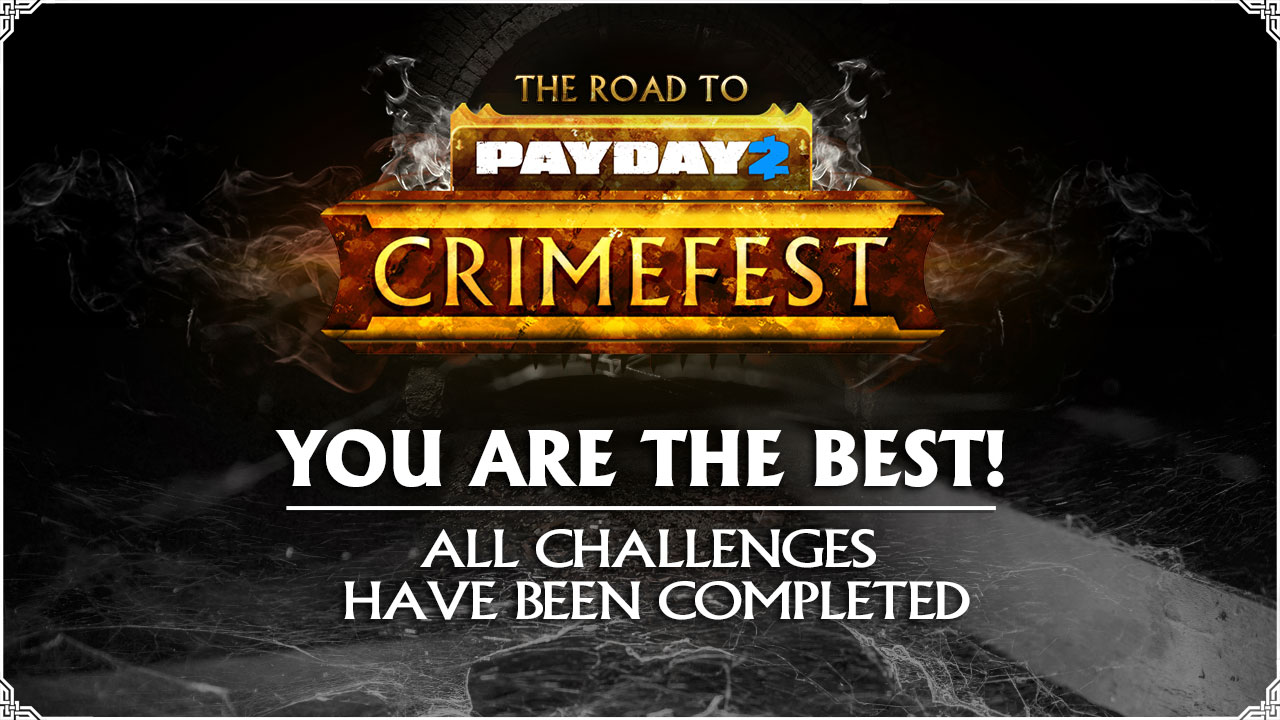 [www.paydaythegame.com]
The Road to Crimefest is complete! You are the best!
HEISTERS! Wow, you are incredible. What an accomplishment! You have completed all of the 25 challenges during the Road to Crimefest, thus unlocking them as rewards to be released in the coming 10 days during the Crimefest event. What an effort you put together – we have been following your progress all along. We were cheering when things went great and we were biting our nails when things looked difficult. Now we are here at the end of the Road to Crimefest. What a crazy 17 days it has been.
Right now, everyone in the OVERKILL crew are working our asses off making sure we make this a Crimefest worth to be remembered. While we make sure everything works, we suggest you sit back, relax, and prepare yourself for 10 days of great content and a lot of fun activity together with us and the rest of the PAYDAY community.
We are humbled and proud to have such an amazing community to work with. You remind us everyday why we love what we do, and we show you our respect and appreciation by giving you the best possible content that we can. The coming days are going to be intense, filled with new stuff that you will be discussing for a long time.
If you by some cruel joke have been cable tied in a cell the past three weeks, check this website out for more information: www.paydaythegame.com/games/roadtocrimefest
Thank you for your support. We salute you.
Crimefest is about to happen. Talk to you very, very soon.
Almir

OVERKILL – a Starbreeze Studio.
Via: Steam Community