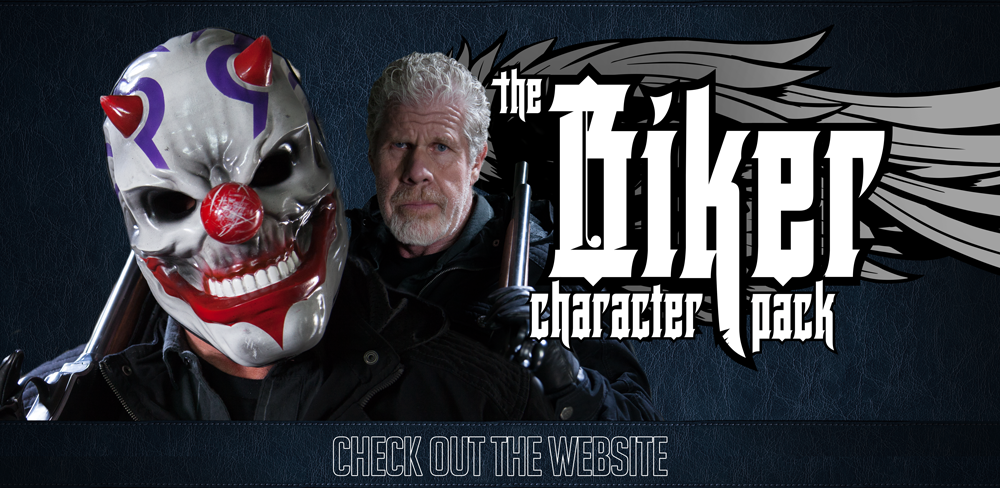 [www.paydaythegame.com]
Heisters,
Day 3 is here! And so is Rust, The latest heister to join the PAYDAY gang.
Check it out: https://www.paydaythegame.com/games/biker/
The Biker Rust has joined the PAYDAY crew!
Don't bite the hand that feeds you…unless there's another hand offering you something better tasting.
https://youtu.be/nPI-Jmkcpe4

Rust, a long time member of the OVERKILL MC, is as ruthless and deadly as bikers come. He does what needs to be done, without hesitation. Basically a badass who's willing to do anything to get his PAYDAY.
The Biker Packs are live!
Best,

The OVERKILL Crew
http://store.steampowered.com//app/450660?beta=0
http://store.steampowered.com//app/487210?beta=0
[www.paydaythegame.com]
Patch Size:
2.2 GB
Changelog:
Added Rust as a playable character

Added the Biker Perk Deck

Added the Breaker 12G Shotgun

Added the Chain Whip melee weapon

Added Rust's Masks
Biker Heist Pack
Added The Biker Heist

Added the Biker Perk Deck

Added the CR 805B Submachine Gun

Added the Throwing Axe

Added 4 new Masks: Speed Devil, Road Rage, The Classic and Flaming Skull
Levels
The Basics Heists
Removed the Gage Pack asset picture from the Preplanning Lobby

Disables the option to not have Team AI present on the level

Fixed various art issues
Flash Drive
Adjusted a visual effect on the level

Reminder to deploy ECM jammer will now continue if player have not deployed it
Golden Grin Casino
Fixed an issue where a red outline would appear on the Sentry Gun asset

Fixed an animation issue with the winch when using the Blimp Turbo asset
General
Replaced all playable character models' textures and models with better looking ones

Deployables can now be used while carrying a bag. Press [KEYBIND] to throw bag, hold [KEYBIND] to deploy your deployable

Deployables used before finishing one of The Basics heists will now remain in the inventory

Fixed an issue where the Halloween Event masks would be visible in inventory when not owning them

Reduced the amount of ammunition for the Sentry Gun by 33%
Sound
Fixed an issue where Sydney as a Team AI would not shout for help when downed
Weapons
Fixed the reload animation for Compact-5 Straight Magazine modification

Added the Beak Suppressor for the Platypus 70 Sniper Rifle
Perks
Anarchist
The speed at which the armor regenerate for the three heaviest armor with the Anarchist perk deck has been increased
Skills
Activated Fire Traps will now be properly synced for drop in clients

Fire Trap placed by a player that is in custody will now work properly
Via: Steam Community