November 25, 2016 1:08 am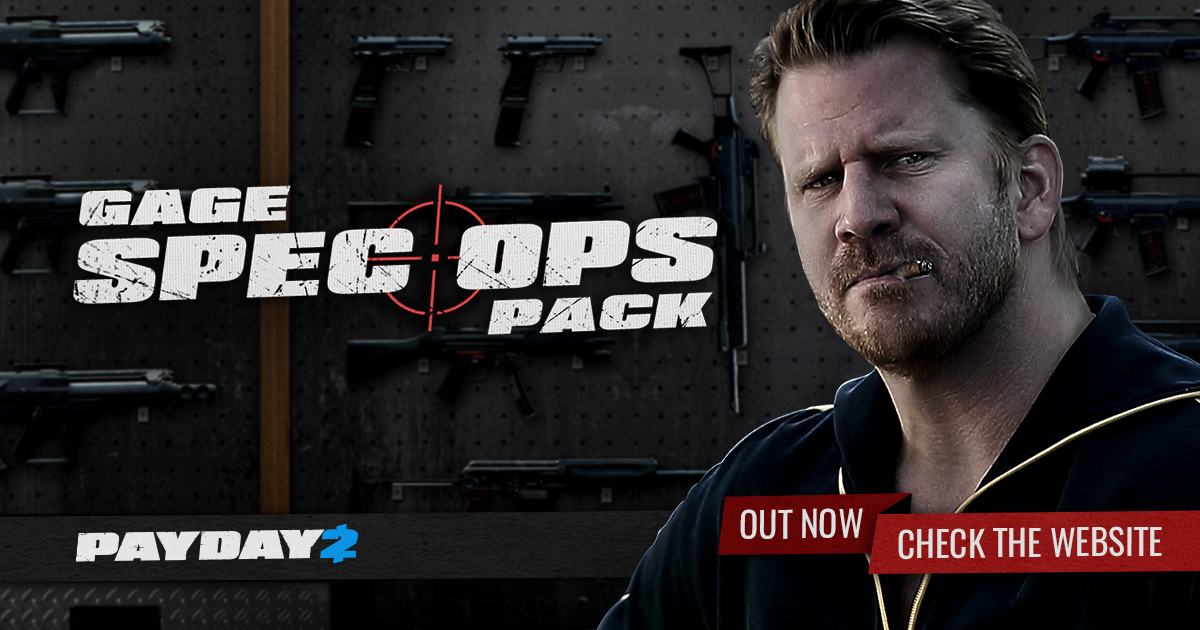 HEISTERS!
We've got several things up our sleeves today so brace for it! A big patch with a couple of nice changes as well as new content. Check it out below!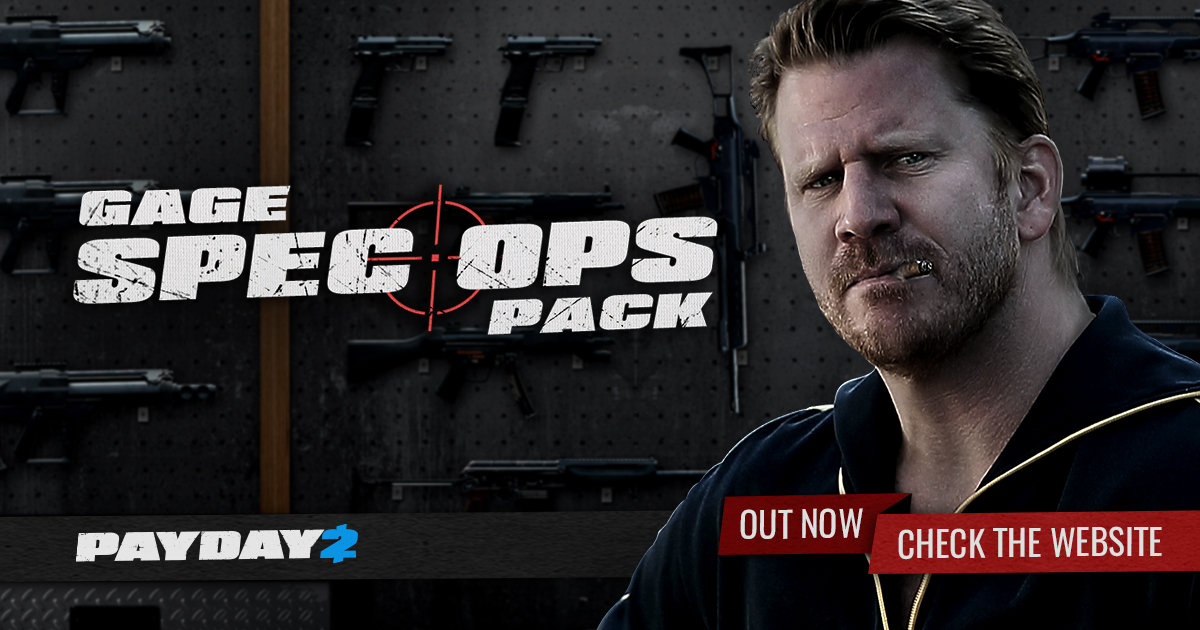 [www.paydaythegame.com]

Gage Spec Ops Pack
Gage used his military contacts to get some really special gear for you this time. 12 new mods in total with some real goodies in there.
For example:

The new muzzle for shotguns narrows the pellet spread.

A new sniper sight and a sight with a distance meter for Assault Rifles, SMGs and some shotguns.

A magazine applicable to certain weapons that increases the reload speed.
Additionally, we've added a new weapon, The Arbiter, that you can unlock by completing Gage's special missions. Also there are masks, patterns, materials and achievements included. Enjoy!
Check out the website for all the details![www.paydaythegame.com]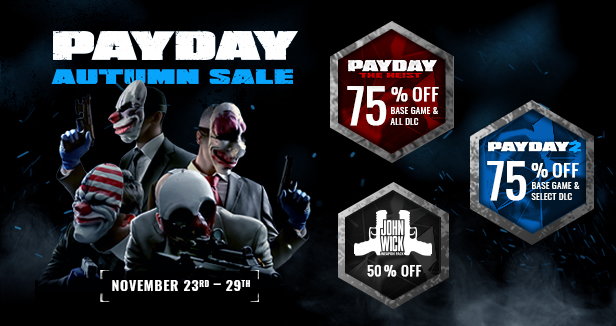 Autumn Sale is live!
Steam's Autumn Sale is live and of course we're in it! 75% off all PAYDAY 2 DLC except for the John Wick Weapon Pack which is 50% off! Also PAYDAY: The Heist and its content are 75% off!
Check it out here!
Sydney's Swim Challenge
Help Georgia "Sydney" Van Cuylenburg to reach heir charity's goal! https://www.crowdrise.com/24000-is-so-much-more-than-a-number/fundraiser/georgiavancuylenburg1
If we reach 24000 Dollars, Almir will shave his beard off which will bring great shame upon him. Also donate as it's for a great cause!
Participants will get a Mega rendition Sydney mask. Others will be able to get them for free at a later date through community and PAYDAY streamer competitions, raffles, giveaways and more. Voice actors of PAYDAY 2 will also be able to give away codes through giveaways on social media and community members will be made mask ambassadors in order to share codes.
Watch the video here!

#getthebeard #PAYDAY2
Vote for us in the Steam Awards
Beta Situation Update
We've temporarily disabled the beta due to some update issues. We will put it back online as soon as possible.
Happy Thanksgiving or Happy Thursday!
Best,

OVERKILL_Joakim & OVERKILL_Hampus
Update 124 changelog
Update size: 1.1Gb
General
Added 10 additional Skill slots

Added 10 additional Player Profiles

Players can now hold space to speed up the End of Heist screen

Made the enemy flashbang destroyable

Added a countdown sound to the enemy flashbang. 3 seconds on Normal to OVERKILL, 2 seconds on Mayhem and above

Added a throw animation to the enemy flashbang

Added ear-ringing sound to the enemy flashbangs effect

Unacquired mods are now more notably marked in the weapon mod menu

Fixed so Steam marketplace will not open when trying to preview a skin with a controller

Fixed a crash when trying to hit a team ai with the kunai while having the Friendly Fire Mutator active

Replaced content update with an information feature on the main menu showing new content available

Fixed an issue where the Crew Loadout would not update correctly

Fix an issue that showed an incorrect melee kill when shooting tasers

Fixed an issue where players could get a deployable interaction while leaning out of a car window

Added optional contours on all throwables

Added optional contours on ammo boxes

Added Toggle Chromatic Aberration in the Advanced Video Option Menu
Levels
Big Oil
Made the level available to level 0 players

Golden Grin Casino

Made the level available to level 0 players

Jewelry Store

Fixed an issue where a window could be lock picked even when the container was spawned outside the window

Panic Room

Changed a couple of art assets

Prison Nightmare

Removed shields from the train and the bridge during the escape

Safehouse

Added more VO for Aldstone, the butler

Fixed an issue where the Longfellow trophy got rewarded within 10 minutes instead of the intended 7 minutes

Train Heist

Made the level available to level 0 players
Skills
Made High Value Target work with sensor mines

Change the description on some skills to say "increase reload speed" instead of "reduce reload time"

Fixed an issue where Lock N' Loud: Aced checked for current ammo in the clip rather than the total ammo in the clip
Weapons
Updated skinning texture for Matever .357 Revolver

Made weapon mod screen available in buy weapon menu

Increased the fire damage on dragons breath round from 10 to 100

Fixed the warning message for incompatible mods so it will not appear for mod the player does not own
Via: Steam Community