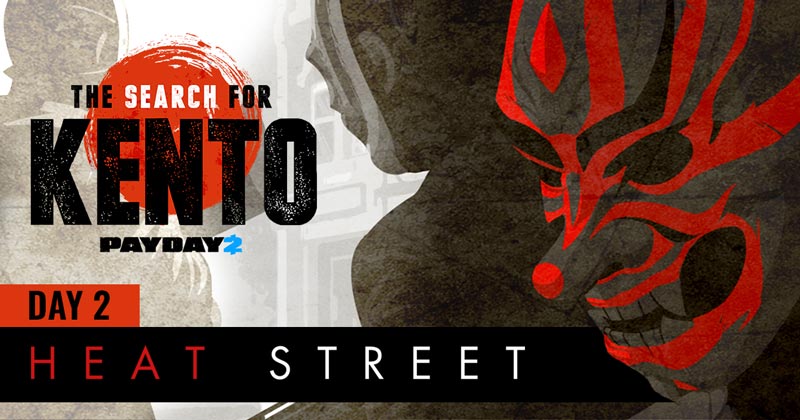 [www.paydaythegame.com]
Heat Street – Stay off the streets
It's been a pleasure rebuilding the iconic level Heat Street in PAYDAY 2.
Once more it's time to hunt down Matt Roscoe and survive the ambush from the streets.
The level has always been a struggle due to it being so open and having many angles where the cops only need a few seconds to take you out.
We hope you enjoy this masterpiece classic, so get your download going and let's start heisting!
Known Issues – We know that the current release still has some smaller issues left. We are doing our best to fix the last problems and release a 0-Day hotfix in the next hours. Since the level is already in a playable state we didn't want to let you wait any longer. Once more sorry for the inconvenience. Please be patient and stay tuned for the update!

"Behind the scenes" is something new we want to share with you. In the announcements we will share our thoughts and plans on everything from balancing skills or planning out an event. This is our way to show you what direction we are taking PAYDAY 2 and give you an insight.
Body Expertise – We heard you guys and we went too far. We are fixing the numbers in this update so it feels more fair. The new numbers will be 30% and 90% aced. We are also looking into the idea of making crossbows single fire weapons so they won't take advantage by automatic skills. Let's start there and see what you players feel about this update.
Disable your mods – When we release at this rate during an event we recommend you to disable all your mods. We have noticed in the past that mods are the number one reason for crashes during fast update phases.
Community challenges – We had some problems with the challenges on the first day which we fixed in today's update. They should now work properly! We also added a way to work against cheaters, but I will take that secret to the grave. We also tweaked the numbers for killing cops and for the achievement challenges, since we realized the numbers were a bit high.
Did you loose your weapon? – We are sorry for the people that lost their weapons after our April Fools Update. We will make sure things like this won't happen again. For you that haven't started your game since the last update, we fixed the problem, therefore you won't loose your weapon aynmore. For those who already lost them, we are sorry but we can't revert the effect.
Official PAYDAY Discord – If you didn't know we have a public Discord channel where all moderators and some of the developers hang out, feel free to join us[discord.gg]!
Grow a beard and be a Beard-star!
OVERKILL_Joakim
Via: Steam Community