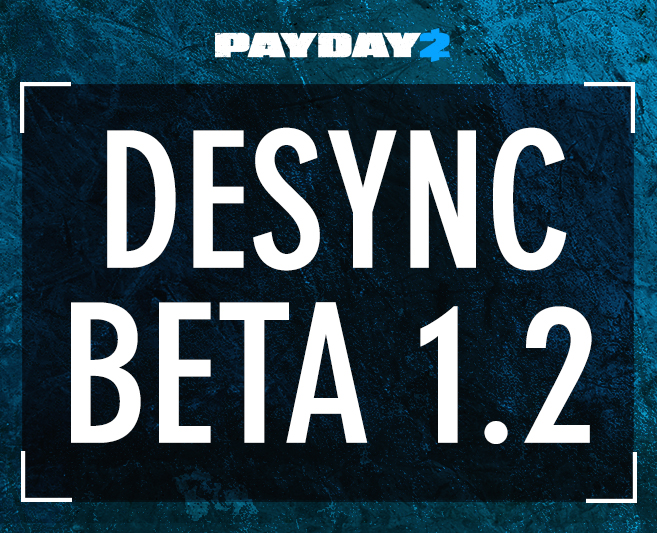 ​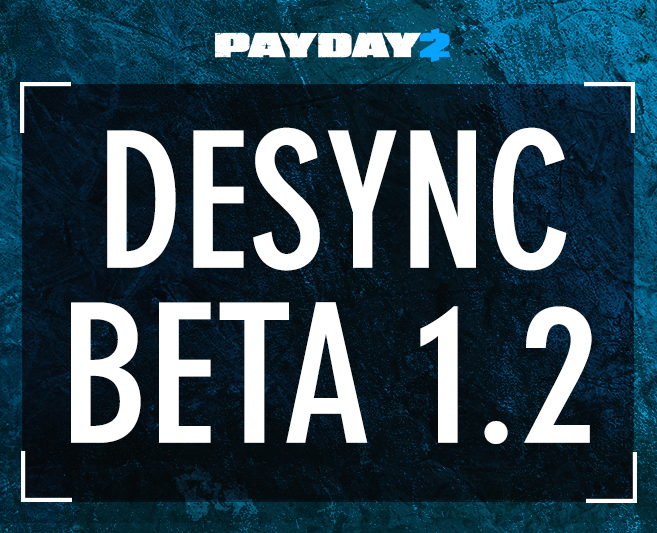 Desync Beta 1.2 is live!
Thank you everyone who participated in the Beta so far. We were going through your feedback and continued working on the Desync Beta! Today's update will further improve the 3rd party animations! If you didn't find the time so far, download the beta, experience the new PAYDAY 2 and send us your feedback on the Desync sub-forum!
PAYDAY 2 Stream Marathon is live!
https://www.twitch.tv/starbreeze
PAYDAY 2 – OVERKILL Official Discord[discord.gg]
Stay tuned,
OVERKILL_Simon
Desync Beta Update 1.2 Changelog
Live – Beta 1.2 = 522,5 MB
Beta 1.1 – Beta 1.2 = 81,2 Mb
General
Added bullpup-style reload for weapons held in the rifle stance
Added rifle-style reload for weapons held in the bullpup stance
Added animations for pistols and bullpup weapons that use the shell reload animation
Added generic interaction animation which players will perform in third person while interacting
Updated the hold types for various weapons
Fixed third person reload animation on CAR-4 not being synced
Fixed third person reload animation on M308 not being synced and using the pistol reload animation
Fixed third person reload animation on Chimano 88 not being synced
Fixed third person reload animation on Crosskill Pistol not being synced
Fixed third person reload animation on Bernetti 9 not being synced
Fixed third person reload animation on Compact-5 not being synced
Fixed player third person animations getting stuck if the player was too slowly while carrying loot bags
Players will now remove the magazine from the weapon and drop it on the ground when they reload, if using HQ Weapons
HQ Weapons with updated reload
5/7 AP Pistol
AK Rifle
AK17 Rifle
AK5 Rifle
AK762 Rifle
AMCAR Rifle
AMR-16 Rifle
Arbiter Grenade Launcher
Baby Deagle
Bernetti 9 Pistol
Blaster 9mm SMG
Bootleg Rifle
CAR-4
Cavity 9mm Rifle
Chicago Typewriter SMG
Chimano 88 Pistol
Chimano Compact Pistol
Chimano Custom Pistol
Clarion Rifle
CMP SMG
Cobra SMG
Commando 553 Rifle
Compact-5 SMG
Contractor .308 Sniper Rifle
Contractor Pistol
CR 805B SMG
Crosskill Pistol
Deagle Pistol
Eagle Heavy Rifle
Falcon Rifle
Gecko 7.62 Rifle
Gewehr 3 Rifle
Golden AK762 Rifle
Gruber Kurz Pistol
Heather SMG
IHZMA 12G Shotgun
Interceptor 45 Pistol
Jackal SMG
Jacket's Piece
JP36 Rifle
Krinkov SMG
Kross Vertex SMG
Lebensauger .308 Sniper Rifle
LEO Pistol
Lions Roar Rifle
Little Friend 7.62 Rifle
M308 Rifle
Mark 10 SMG
Micro Uzi SMG
Para SMG
Queens Wrath Rifle
R93 Sniper Rifle
Rattlesnake Sniper Rifle
Signature .40 Pistol
SpecOps SMG
Steakout 12G Shotgun
STRYK 18c Pistol
Tatonka SMG
Thanatos .50 cal Sniper Rifle
UAR Rifle
Uzi SMG
Valkyria Rifle
White Streak Pistol
Via: Steam Community