February 23, 2018 2:33 pm

​

One Down Toggle Update
Now it's back! The One Down mechanic can now be turned on or off from the buy contract menu. You wanna play some One Down Overkill? Sure thing. How about One Down Normal? No problem. The choice is all yours.
To see One Down lobbies on CrimeNet you need to allow them in the filters menu. With the filter turned on; other player's One Down lobbies will become visible on CrimeNet alongside normal lobbies.
The lobbies are marked with a red "1" next to the contract icon and the text "ONE DOWN" as an indicator under the difficulty. After joining the server you can also see the "ONE DOWN" indication in the lobby, the loadout, as well as the tab and esc screens while ingame.
​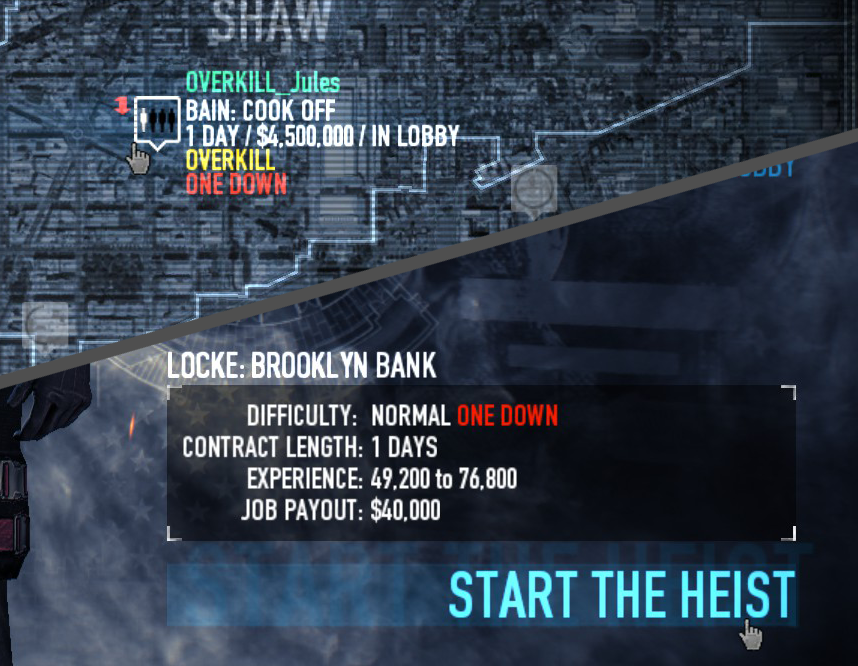 Animation Update
On top of it all we are expanding our animation library with not five, not ten, but a whopping 50 new hurt animations!
All these new ways to have SWATS fall and collapse are added to the animations sets for the SWATS to bring even a bigger repertoire of pain. The animations offer lots of new and subtle variations for when the enemies take damage.
Stay on your feet heisters.
OVERKILL_Tobias
OVERKILL – a Starbreeze Studio.
Difficulties & Sniper Beta 1.3 Changelog
Update size from Live: 105.4 MB
Update size from Open Beta: 103.7 MB
General
Implemented the One Down setting
Fixed an issue with the auto hit triggering incorrectly
Corrected typos on the loading screen hints 47, 56, 64, 99 and 134
Weapons
Update reticle when previewing a weapon
Fixed broken alignment on the Combat Sight
Fixed broken textures on the Riktpunkt Magnifier Gadget
Animations
Fixed some broken shield climb animations
Implemented 50 new hurt animations, including both bullet and explosion hurt animations
Updated some old explosive hurt animations
Via: Steam Community