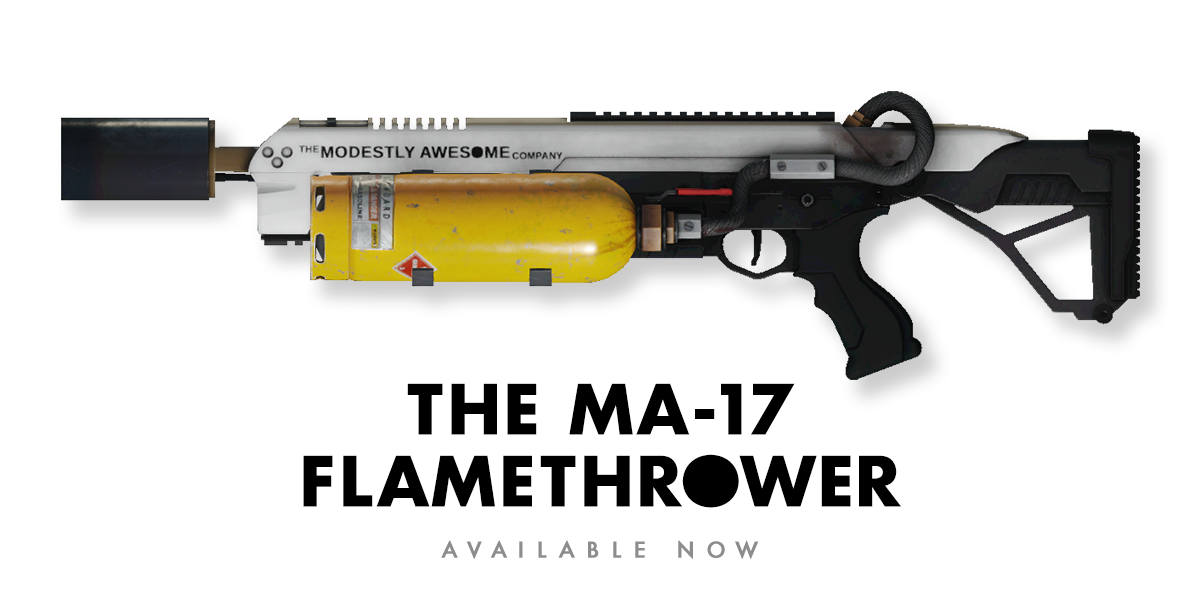 What's good Heisters?
For all you pyromaniacs out there, today we release the MA-17 Flamethrower, a secondary weapon that is the perfect addition to any "BUUUURN!" loadout.
No Fire extinguisher sold separately
No taxes and shipping
No additional fees for any orders
Customers can not receive a full refund if not happy
Shipping starts right now
May not be used on Shadow Raid, Murky station, Car Shop, The Yacht, and Breakin' Feds
Additionally, we decided to make some changes to the old Flamethrower. While being powerful in close quarter, the limited ammo pool encouraged players to tap the fire button instead of holding it down. With the intention of making the weapon more fun and forgiving we have increased the ammo pool and reduced the damage.
Kill it! Kill it with fire before it lays eggs!
OVERKILL_symN
OVERKILL – a Starbreeze Studio
Update 184.0 Changelog
Update size: 118.8 Mb
Strings
Updated the in-game description for the "Say Hello to My Big Friend" achievement
Added a description to the Legendary Vanguard skin for the Kross Vertex Submachine Gun
Enemy Visuals
Updated and re-added the old Minigun Bulldozer model for the Death Wish difficulty
Fixed an issue where the Medic Bulldozer has a grey face when getting shot by Team-AI
Fixed an issue with the glass on the visor for the Medic Bulldozer and Minigun Bulldozer
Weapon changes
Flamethrower

Name changed to Flamethrower Mk.1
Damage decreased to 7 (down from 14).
Total Ammo increased to 1800 (up from 600).
Magazine increased to 900 (up from 300).

Magazine mod "Rare"

Damage penalty increased to 4 (up from 3).
Total Ammo bonus increased to 450 (up from 150).

Magazine mod "Well Done"

Damage bonus increased to 7 (up from 3).
Total Ammo penalty increased to 450 (up from 150).

Akimbo Weapons

Stability penalty increased to 36 (up from 24).
Via: Steam Community