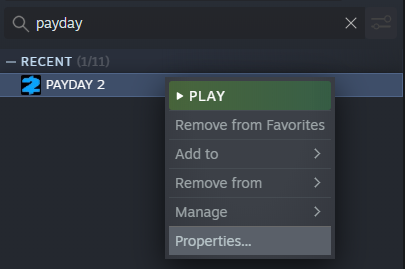 Open Beta Weekend
We are looking for your feedback regarding some weapon tweaks we've been working on over the last couple of weeks. We've tweaked some stats on weapons such as ammo pools, ammo pickups, and rate of fire.
This is the first beta we've done in quite a while and it's also the first gameplay and meta changes we've done in a while. We did not want to make big changes to the game where people would feel it deviated from the core experience too much.
We've tried to address the issue of weapons for different categories not feeling different enough. In the beta, we introduce range-based Damage multipliers, where the range in which you use the weapon will affect the damage you deal with the weapon. All the weapons will have an optimal range where they perform roughly like you are used to, some will be better past that range some are weaker past that range. A few weapons will be better below the range.
If you want to know more about the changes please go visit the PAYDAY 2 Forums where OVERKILL_Denka talks more about the beta and the changes therein. Here you can also find links to the feedback survey and the full changelog.
Throughout this weekend, you can join the beta and try out these changes for yourself. We encourage you to play with any weapon you want and leave your feedback in the form provided in the forum post linked above.
The beta will be active between the 5th of March until 8th of March.
How to gain access to the beta
You need to open the game "Properties…" in steam.
Right-click on the game in your library and choose properties.


In the window select the "BETAS" category. Under "Select the beta you would like to opt into:" select the "open_beta".


The beta should then start downloading.
Recent changes
In the last update to the live branch, we accidentally included some of our testing stats. These were not necessarily final and some of them have been changed. We selected weapons based on their archetype to represent the changes we wanted to test. In the beta branch, you will find that we have adjusted some of these values and propagated the ideas on a broader scale.
Keep those helmets flying.
OVERKILL_Tobias
OVERKILL – a Starbreeze Studio.
Updates may be incompatible with the mods you may have installed. Even seemingly unrelated mods may cause unexpected issues.
If you are experiencing any issues with the game; try removing any mods you may have installed and try again.