Meet The Gang
In the year 2013, a daring crew of reckless criminals unleash a torrent of chaos upon Washington D.C. Backed by the reclusive genius mastermind Bain, these clown masked culprits stop at absolutely nothing to drain the city's vaults and fill their own greedy pockets. Causing chaos and destruction wherever they go. These are the adventures of the PAYDAY crew!
Join Dallas, Hoxton, Wolf and Chains as they heist away every Saturday morning, robbing banks and earning money while having a supertastic time!
PAYDAY the animated series is out now on VHS and BETAMAX! Grab a copy and you'll get 10 fully packed episodes! If you buy 3 copies, you'll get 2 copies for half the price of 4 copies and only pay for one extra 1 copy at full price!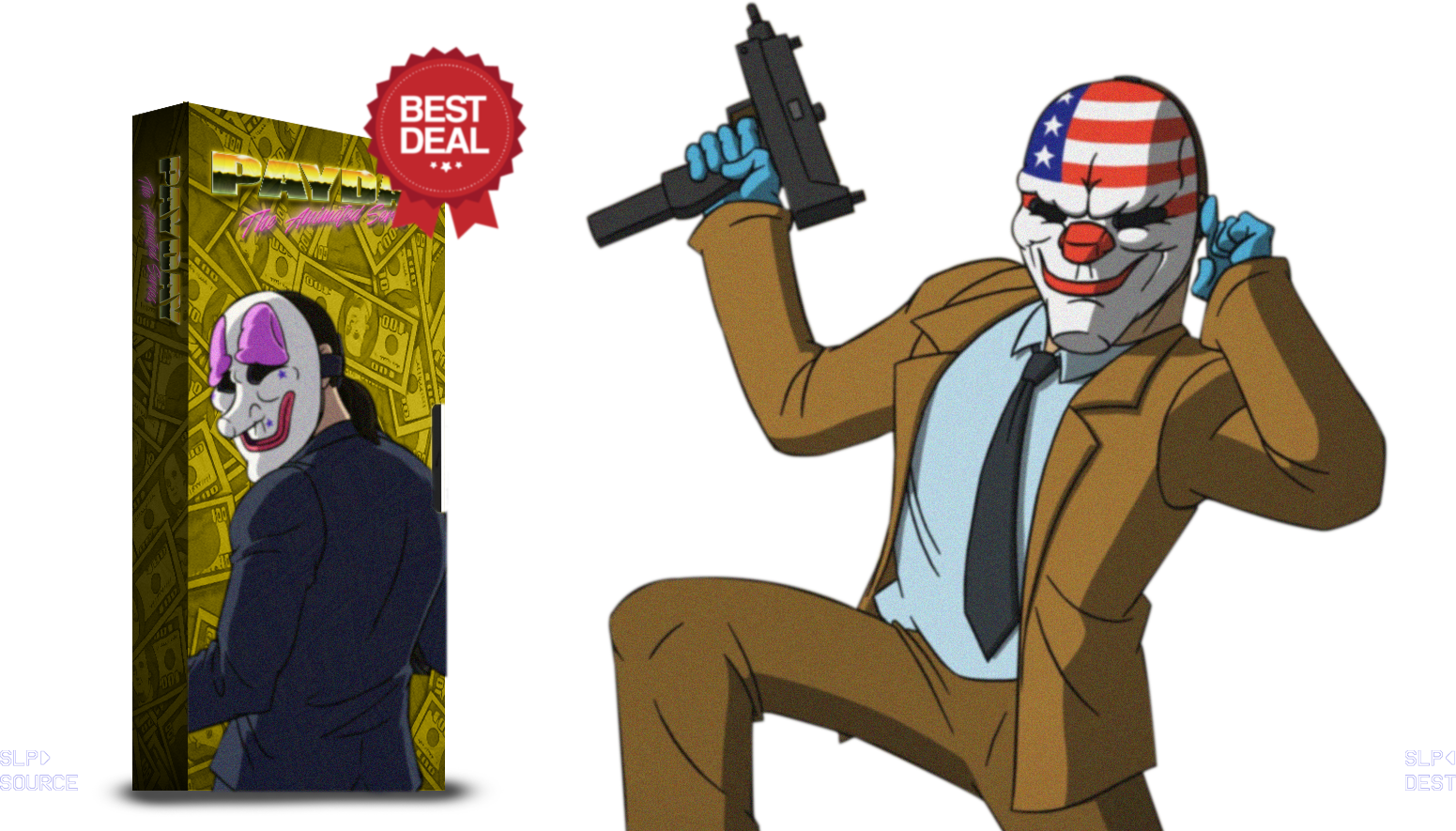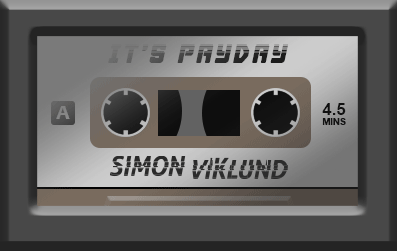 Episode List
Episode 1: "First World Problems"
Bain sends the gang to the First World Bank where they're supposed to grab some loot so they can afford new skateboards! Cause nothing is a rad as grinding some rails! But as they get there, Chains accidentally trips the alarm. Gosh darn it Chains! So now the gang needs to shoot their way out! Hope that Commissioner Garrett doesn't show up and totally wrecks the gang's plan!
Episode 2: "15 Minutes of Blame"
The gang is robbing a jewelry store, but in the middle of the heist, Dallas accidentally shoots their only hostage. Whoops! So now they don't have a civilian to trade with. But instead of being a good pal, Hoxton just keeps blaming Dallas for a simple mistake anyone can do. They almost miss out on the loot, but in the end, the gang really learns a bit about friendship!
Episode 3: "Flying High"
The guys are pinned down in the back of a plane and need to get out of there before things get really crazy! So they grab some parachutes and simply ditch that entire airplane! Chains is a bit unsure if it's safe, but Dallas explains that it's perfectly safe and that he can always trust Dallas, because trust is the best thing between buds. On the ground there are lots and lots of pesky cops to take on. Time to stick together!
Episode 4: "Smash and Grab and Smash some more"
It's not often that the gang gets to just go bananas! But today they get sent off on a mission to just wreck an entire mall!! They get to really do a number on all the shops - even playing with fire a bit. They have a supercool time and learn about friendship, and they also have ice-cream. But then the cops show up and totally busts their party. But the gang will stop them!
Episode 5: "Holly Jolly X-Mas"
Christmas is around the corner, but Chains forgot to buy presents to his friends! So he manages to trick the gang to join him as he robs Santa's Village. But it's not really money Chains wants to steal - it's all the awesome gifts. Just hope that rest of the gang doesn't figure out his real plan, and hope that he can find that rockin' beanie that Wolf so badly wants!
Episode 6: "Scapegoat"
Bain is sending the gang on a rather unusual request by Vlad: go grab some goats! Well, surely this will be easy compared to robbing banks and stealing diamonds, right? Turns out that goats can be quite rowdy, so much so that the truck crashed and the goats escaped, darn it! Now the gang has to spread out and find those quirky goats before Vlad gets real mad.
Episode 7: "Done Deal"
Go to the casino they said, it will be fun they said. At least it was fun until the dealer refused to pay out the big amount of money that the gang actually won! Well, there are other ways of obtaining the money as the gang quickly returns from their day off to get what is rightfully theirs, and more.
Episode 8: "Decent Gage"
Gage sends the gang on a mission to retrieve the blueprints of some futuristic Mech technology from a high profile conference on Robotics. These blueprints will allow Gage to finally get back in action, but the gang has to absolutely stealth this one. Their disguise works wonders, until....who is that on the dance floor?!
Episode 9: "Sneaky Museum"
Everybody knows that museums suck. But not if you break in at night and start stealing stuff. So that's exactly what the gang does. Cause Bain has his eye on some very valuable paintings. But the gang forgot to ask him which ones. Now they have to figure out which one of these weird pictures are worth lots of money. And also, without making a sound!
Episode 10: "Tryin' to Chill"
The gang is super tired as they were up all night robbing a nightclub. All that loud music and dancing just made them sleepy. But damn if they can't even get to relax in their own home. Dallas sees some suspicious activity outside the window and suddenly the cops starts blasting. Now it's time to defend their turf! Maybe it's not that cool to not go to bed in time!