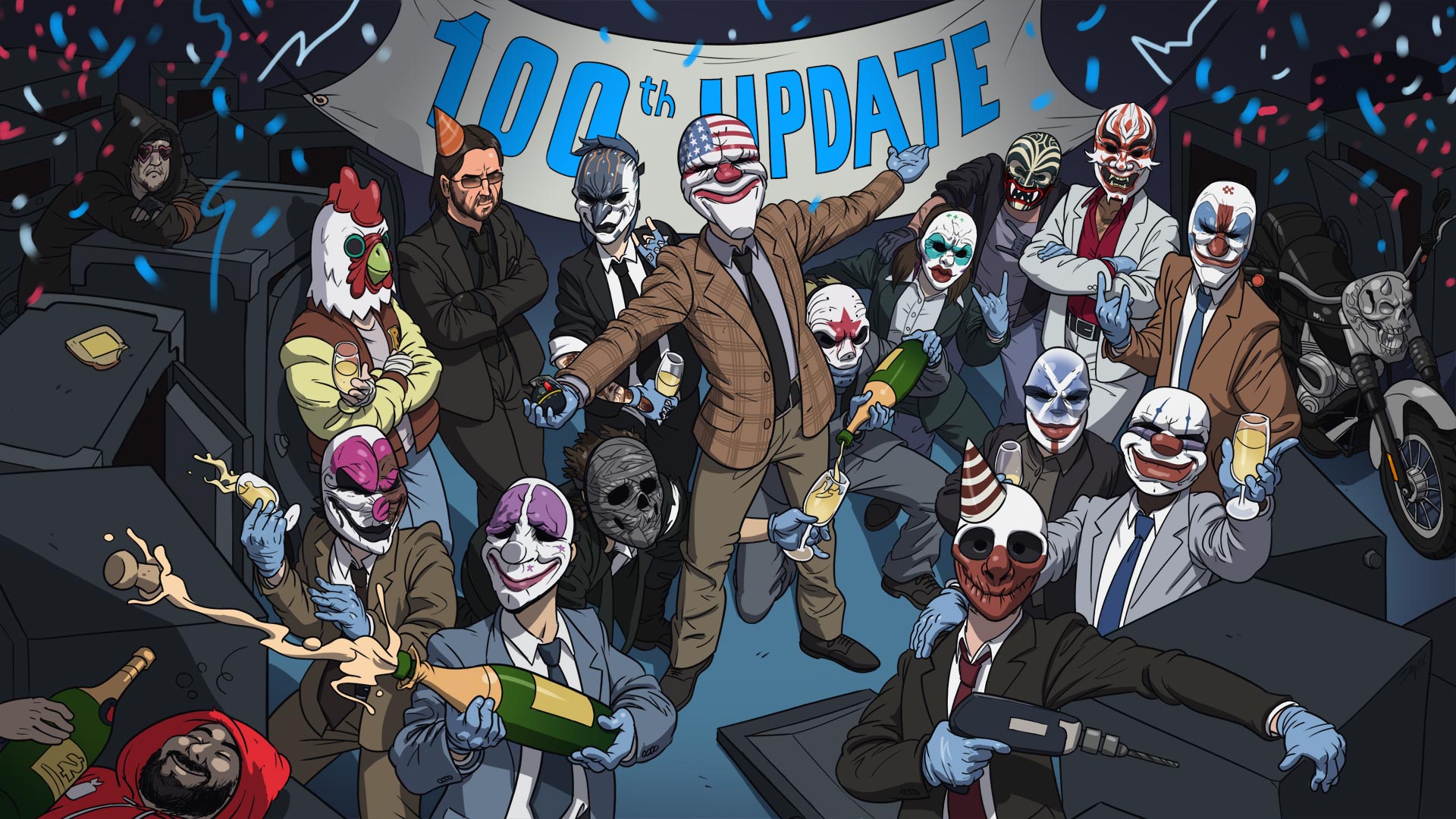 Heisters, Update 100 is here!
Update 100 is here! Dear friends, heisters, career criminals, crew chiefs, muscles, armorers, rogues, hitmen, crooks, burglars, infiltrators, sociopaths, gamblers, grinders, yakuzas, ex-presidents, maniacs, anarchists and bikers - the time has come. Don your masks and get ready for the centennial update of PAYDAY 2. The PAYDAY franchise is ours again and to celebrate it, we're giving away a community grenade, we've revamped all of the skill trees and we're making the black market free for everyone going forward. We will continue to develop stuff for PAYDAY 2 for another 18 months. We're excited to continue working on the game until the end of 2017! There is a lot of things we have to cover. Let's get to it, shall we?
First of all, if you haven't seen the video message we recorded for you, please have a look:
Free Community Grenade
Let's start off by talking about the newest addition to your weapons arsenal: the HEF grenade. We've added a free community grenade for you all. This means that everyone and anyone playing PAYDAY 2 has access to explosives, no matter what DLC you own.
| | |
| --- | --- |
| Unlock Level | 0 |
| Inventory Slot | Throwable |
| Weapon Type | Explosives |
| Range | 5 |
| Damage | 600 |
| Capacity | 3 |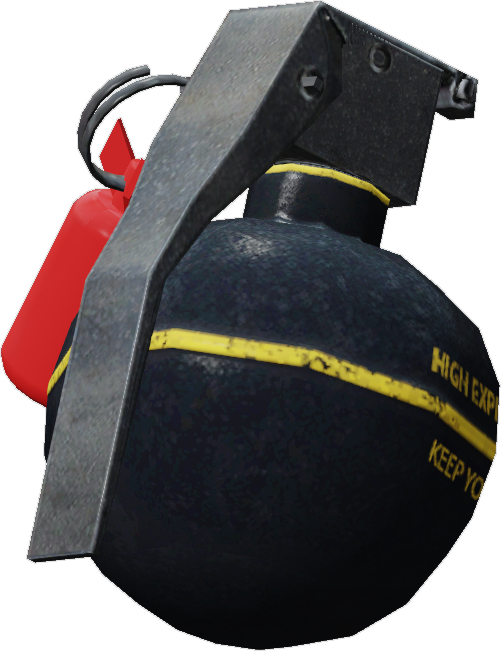 We've been working in the shadows on improving different aspects of the game. One of them is giving you guys more graphics options to choose from. Below you'll find comparisons with Anti-Aliasing FXAA, Anti-Aliasing SMAA, Ambient Occlusion AOB, Ambient Occlusion SSAO and Parallax Mapping. You'll also be able to turn them off if need be. Use the slider below to check out the differences between the different options.
Subpixel Morphological Antialiasing (SMAA) is a heavier but more accurate anti aliasing with better color and detail retention compared to FXAA.
Screen Space Ambient Occlusion (SSAO) is a heavier but more accurate and precise Ambient Occlusion compared to AOB.
Parallax mapping is an algorithm for creating visual depth within 2D textures. At this time it is only activated in bullet marks.
Anti-Aliasing FXAA
Anti-Aliasing SMAA
Ambient Occlusion AOB
Ambient Occlusion SSAO
Parallax Mapping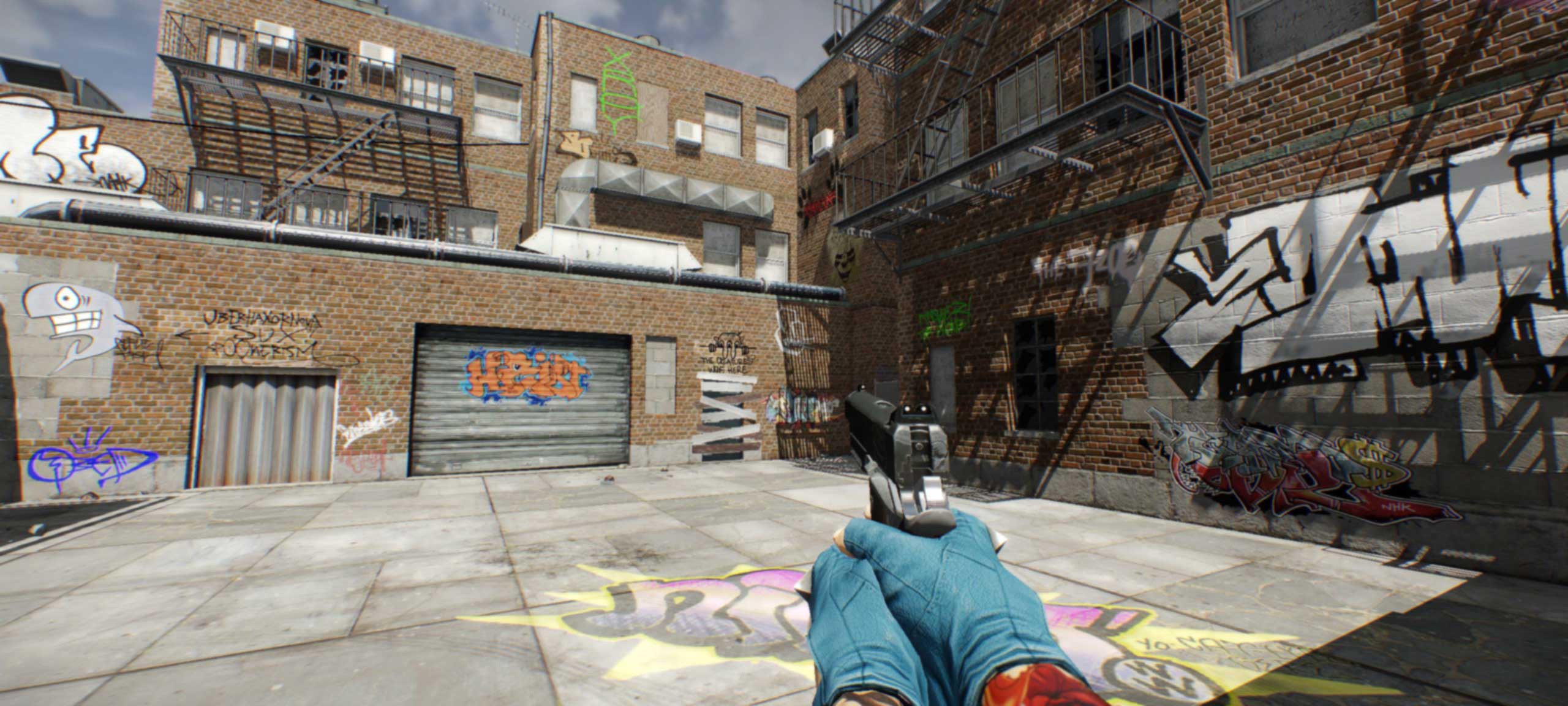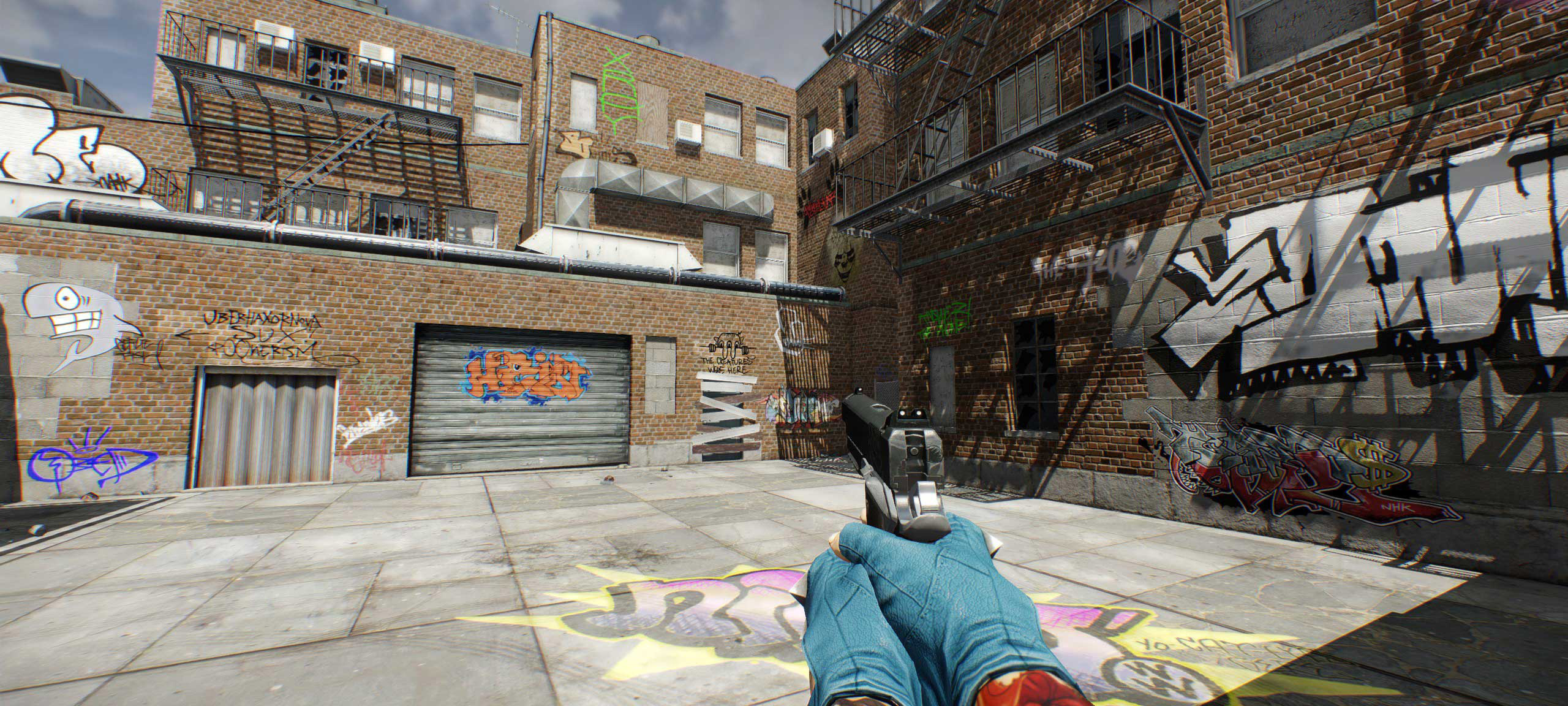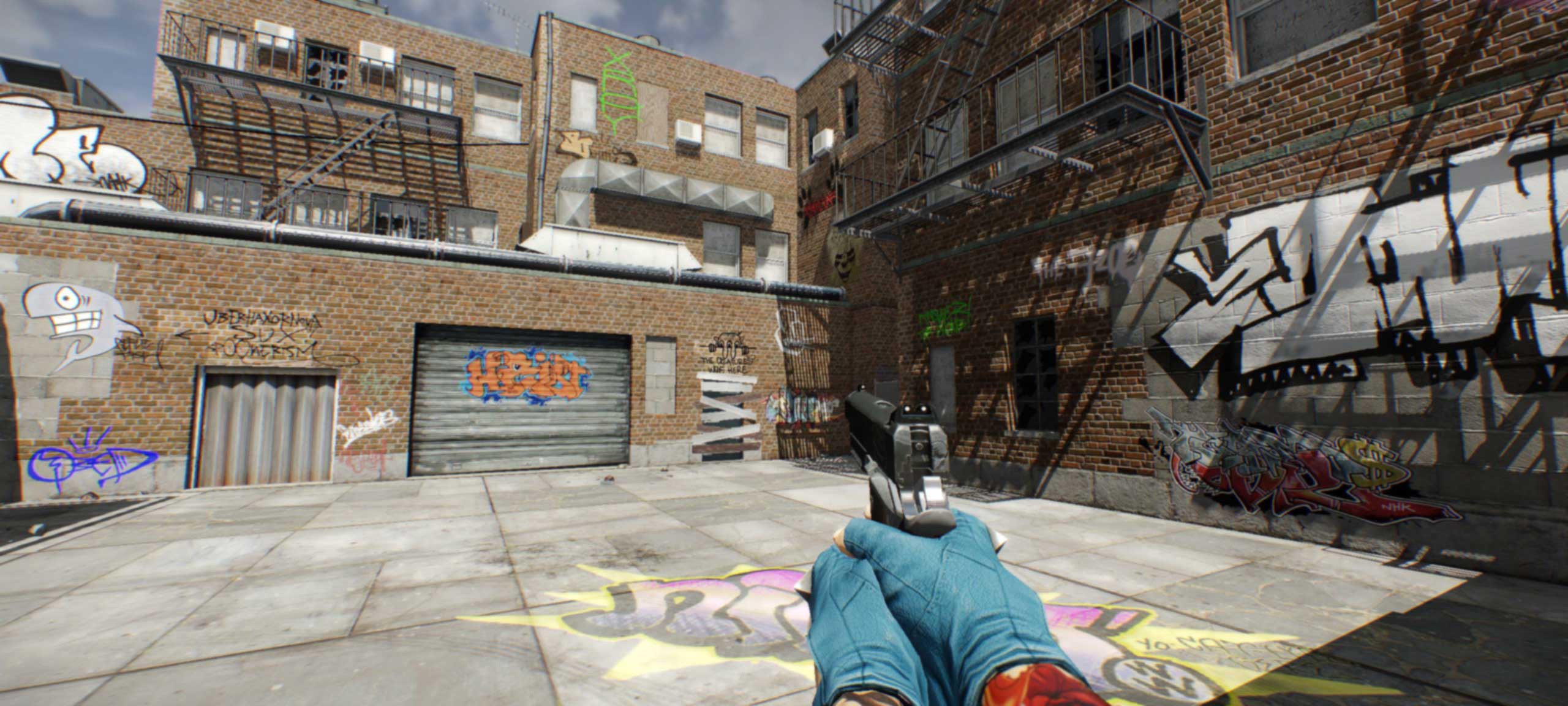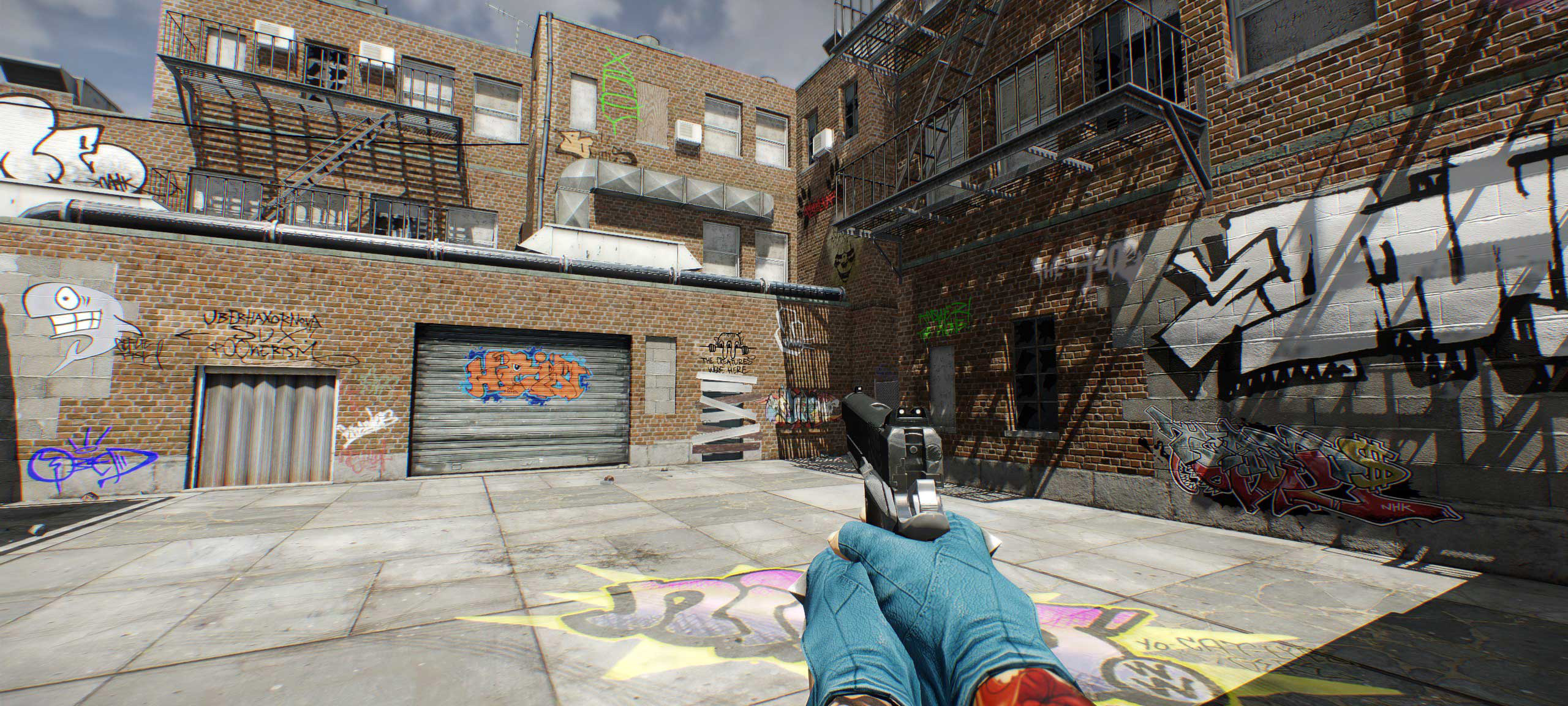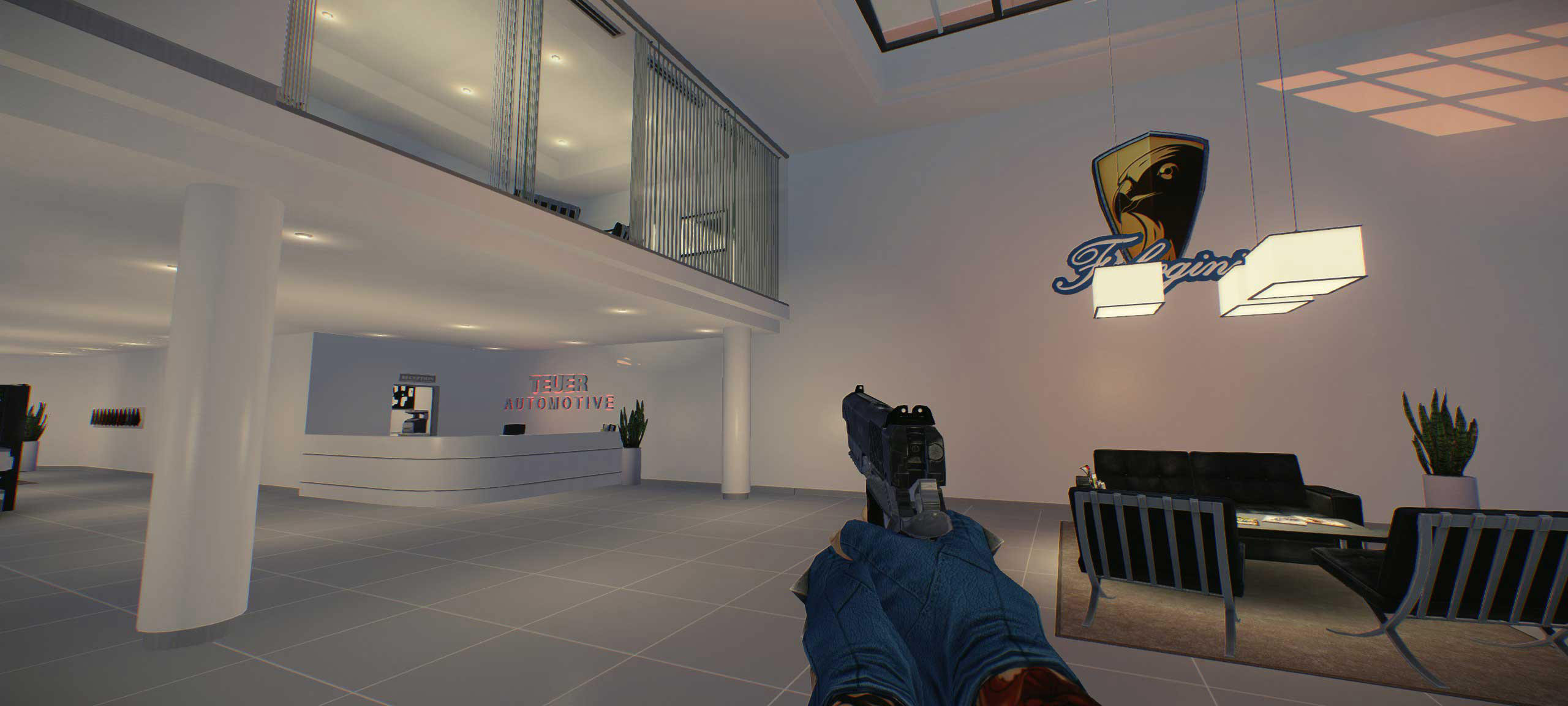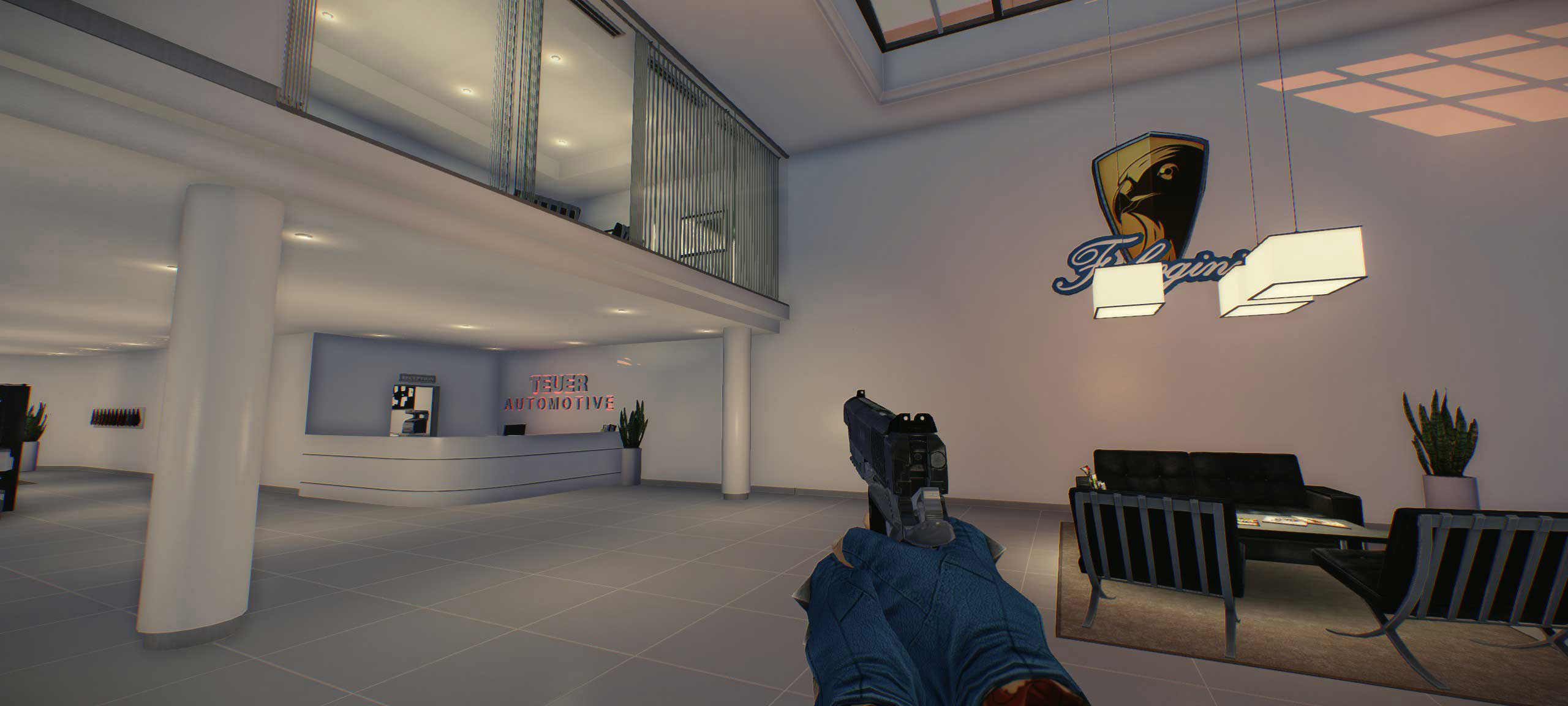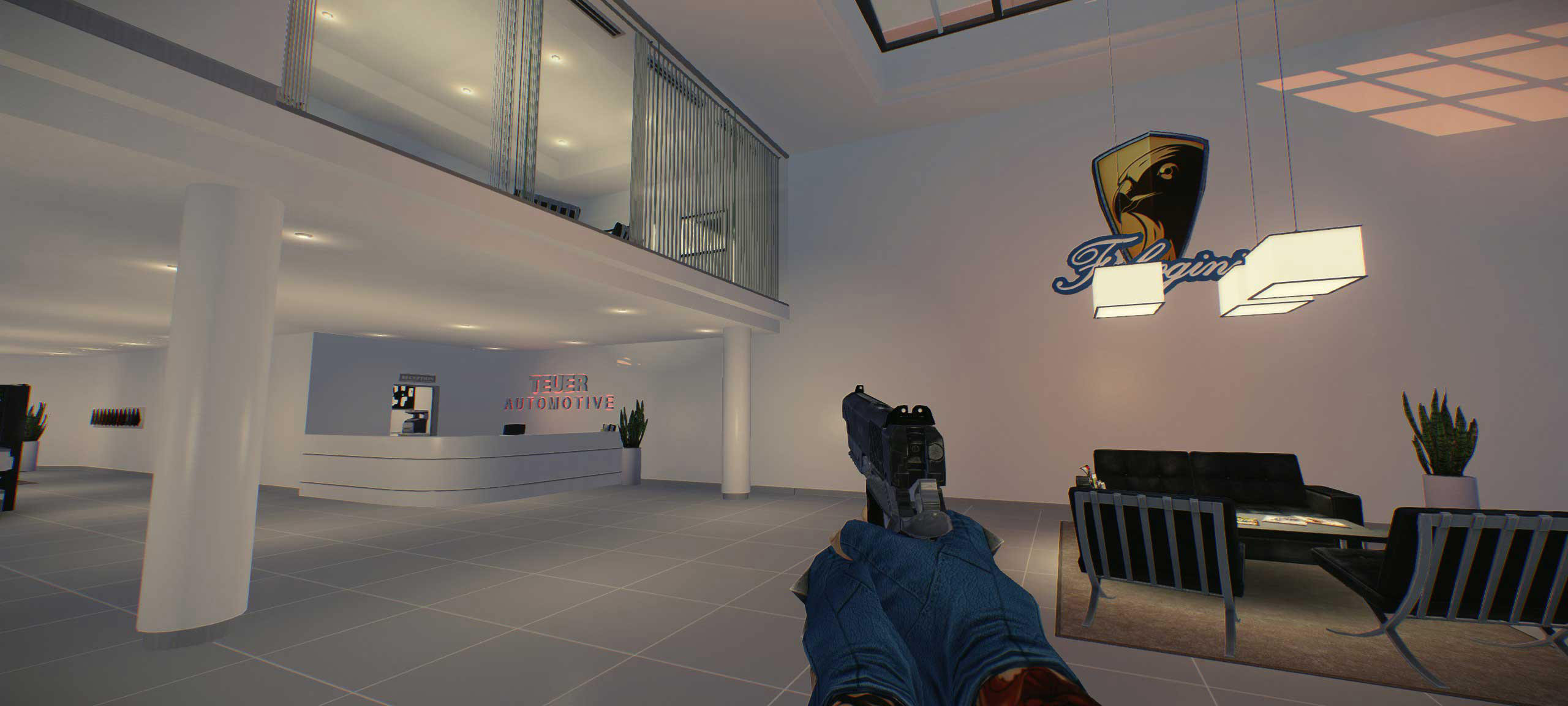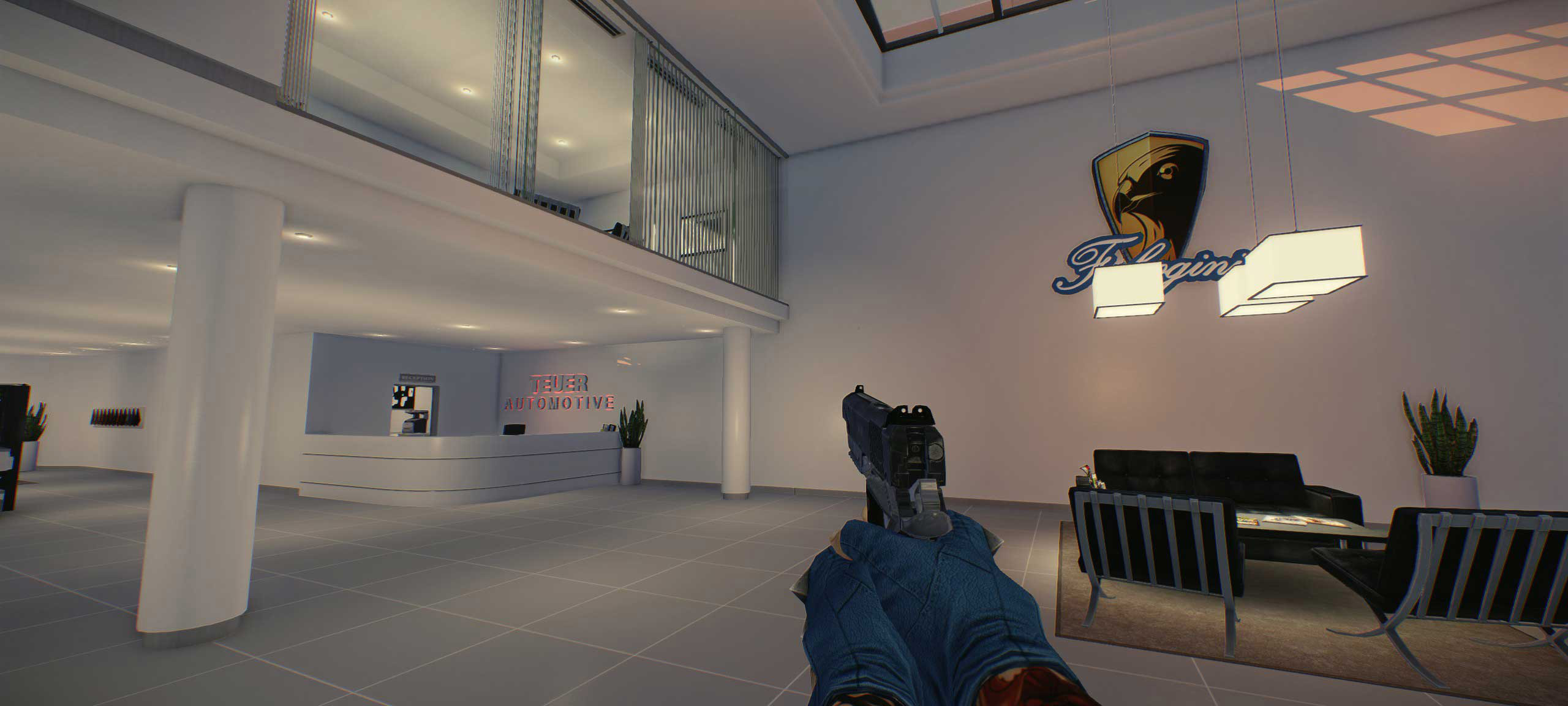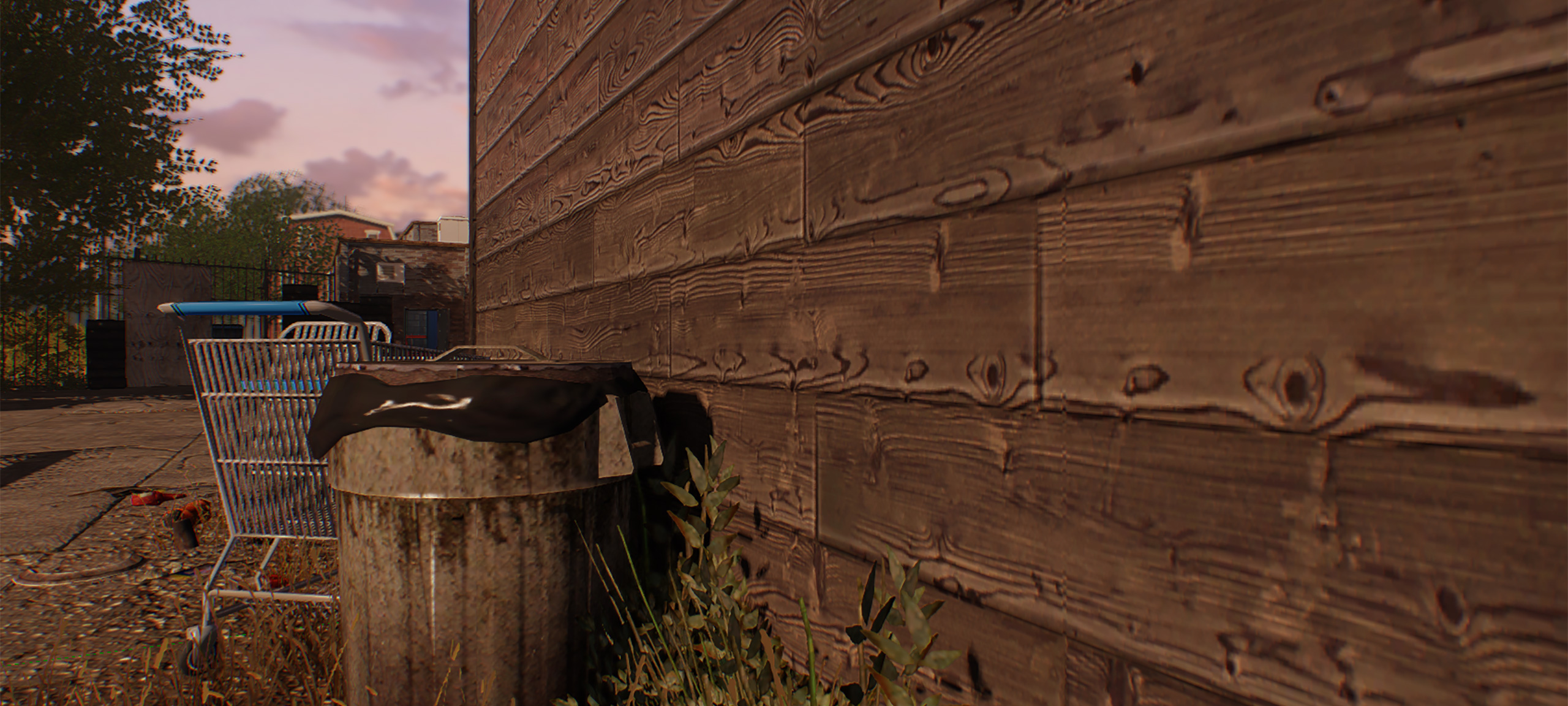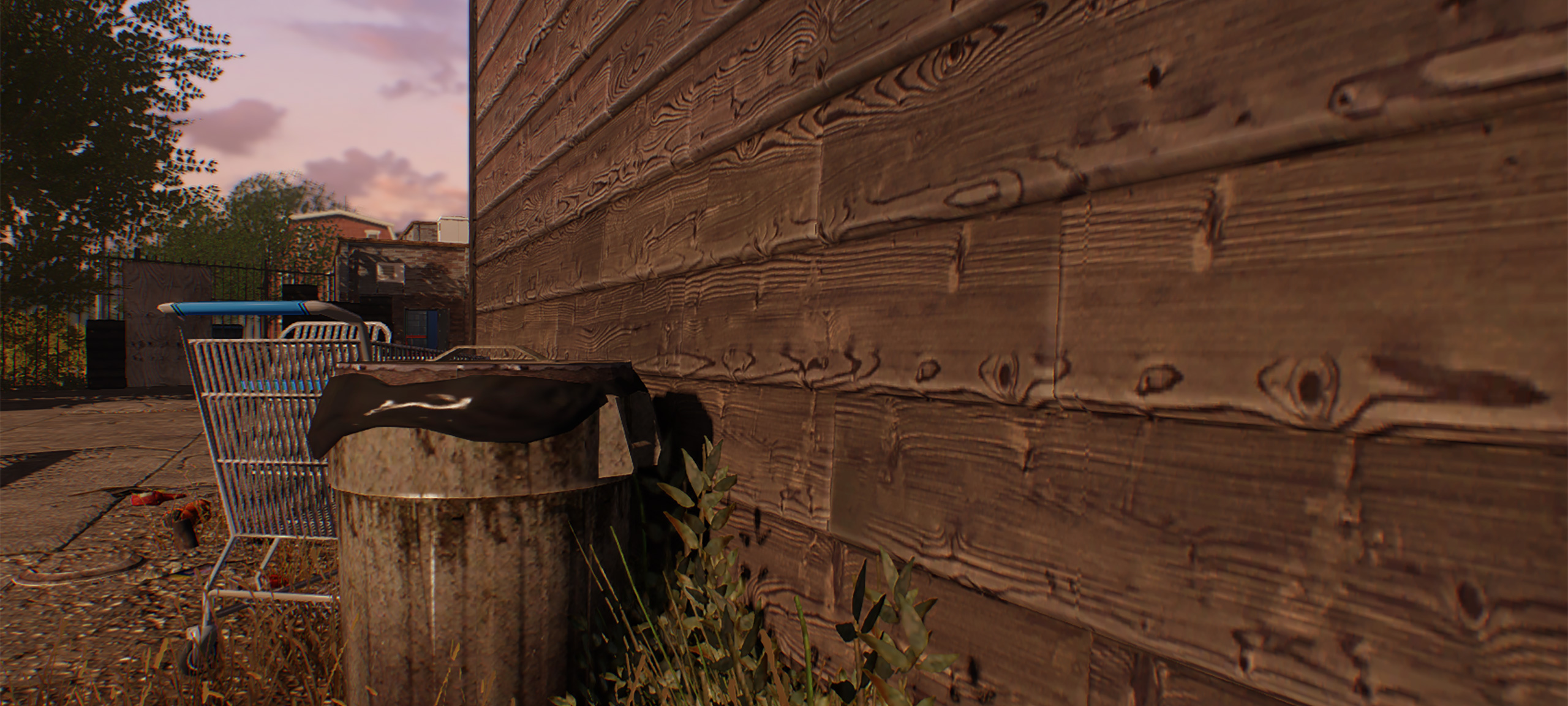 New Skill Trees
99 updates after launch and 3 years worth of post-launch changes does a lot to a game. A few months ago, we announced that we we're working on a big revamp of the skill trees. As it were, the skill trees were too disorganized, with no clear focus of specialization in each tree. A lot of skills were disconnected from their respective tree, forcing the player to get skills they didn't need in order to reach the skills they wanted. The revamp was made to change this.
We want to keep all the possibilities of current builds but also enable more skill build variations. A lot of experimental builds sacrifice a lot of points in things that doesn't fit the build's playstyle and therefore they are not on par with more straightforward builds.
After months of testing together with you in the community, the revamp is live.
If you want a more in-depth description, please click here to read our original announcement for the skills beta.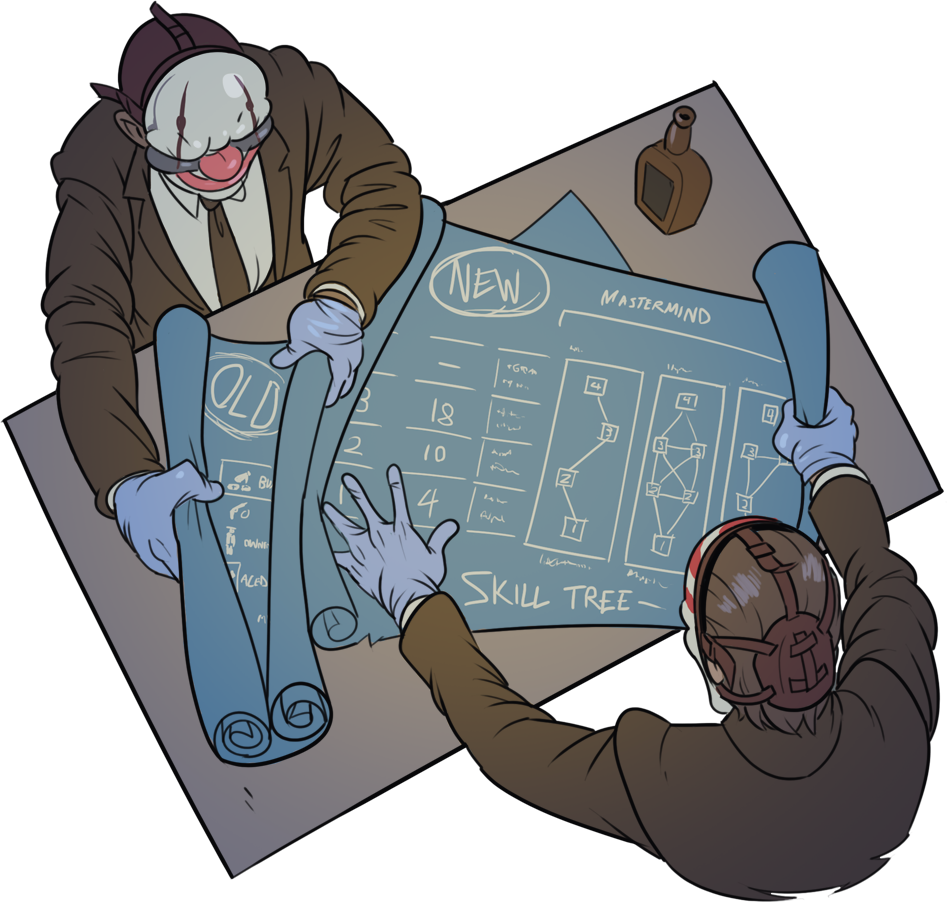 Changes to the Black Market
Celebrating update 100, we're making the Black Market free. Safes are now divided into two categories: old generation and new generation safes. Any old generation safe is a safe that was released up to this point. Any new generation safe is a safe released from this point going forward.
Old generation safes and drills have now stopped to drop in the loot drop. Starting June 24th, the first new generation safe will start to drop in the loot drop. When you get one, you open it for free - no drill required. It's important to mention that no items have been or will be removed from anyone. If you have a old generation safe, you can still purchase a drill if you want to open it, just like before.
Old Generation Safes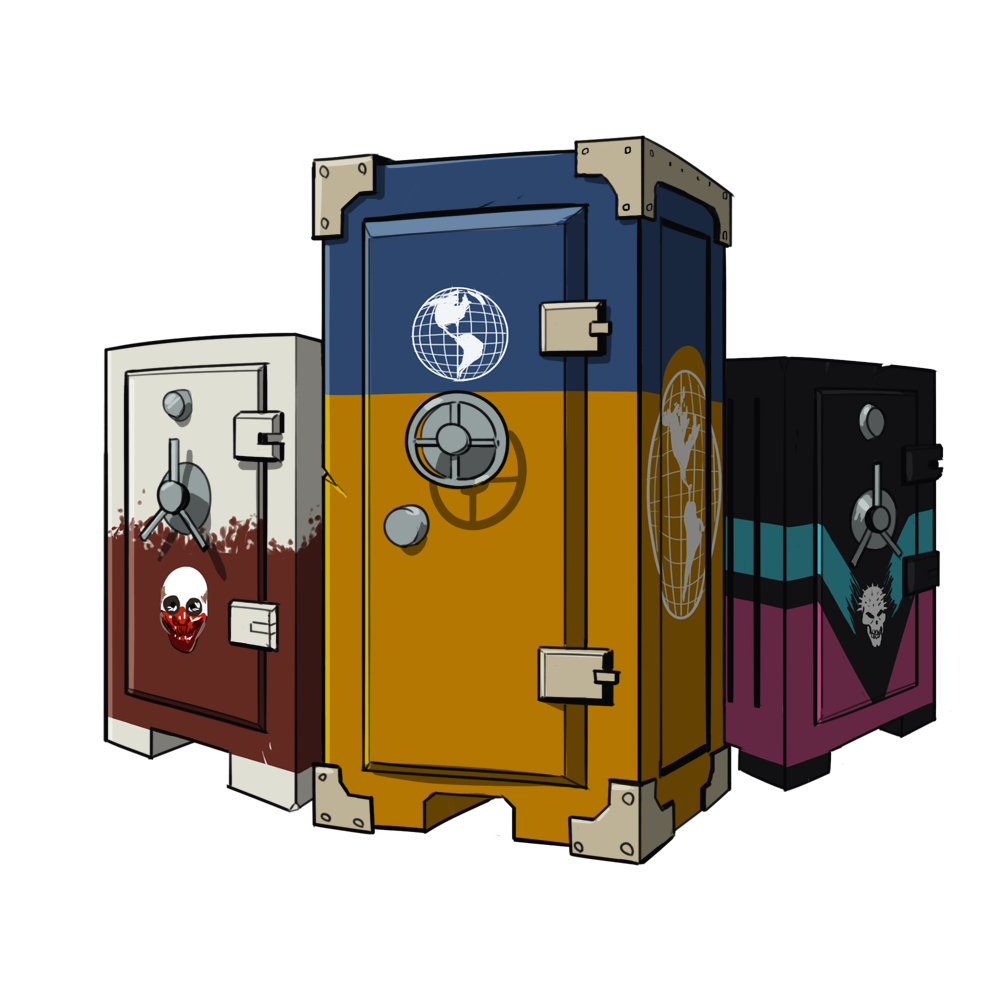 New Generation Safes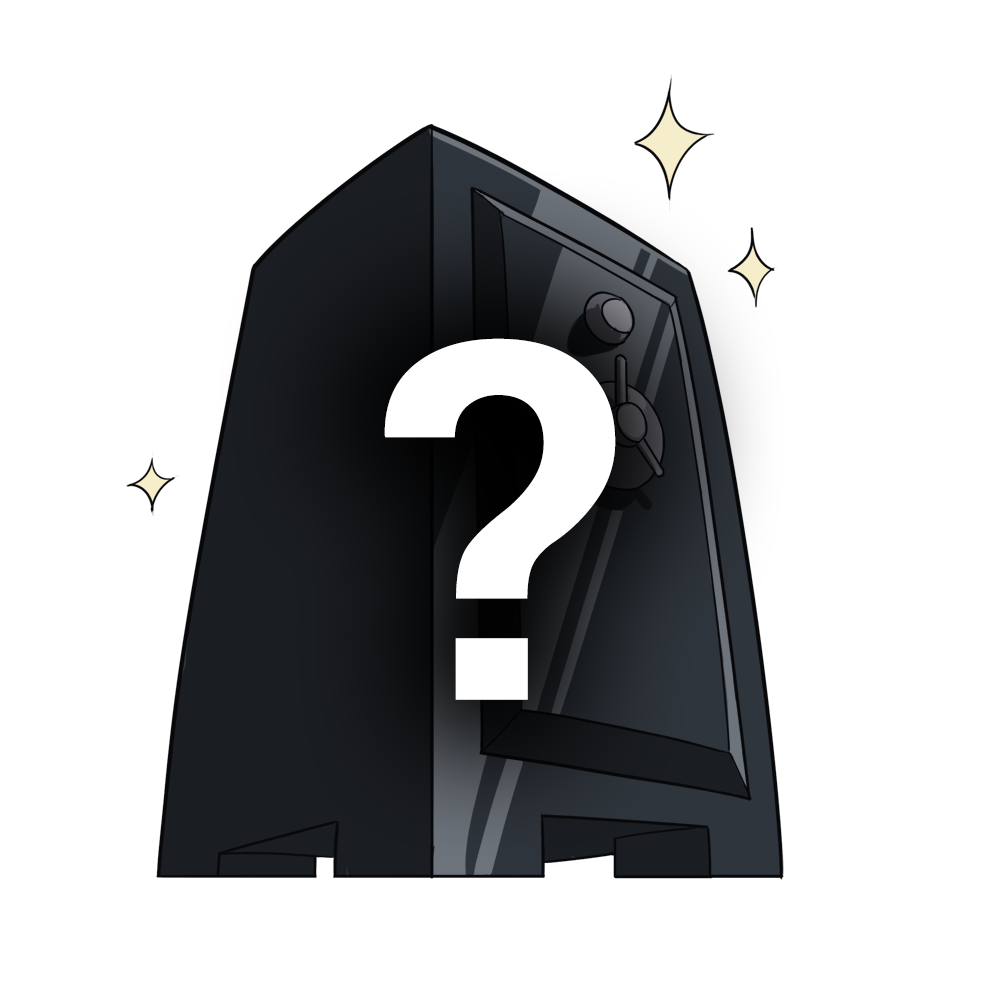 AMA with FAQ ON TWITCH.TV TOMORROW!
Tomorrow OVERKILL_Joakim, OVERKILL_Hampe and OVERKILL_Jules are doing an AMA on the Starbreeze Twitch.tv Channel between 4pm-6pm EST. We will go through as many questions as we can asked in the question thread. Make sure to pop in and join us! FAQ answered on the stream will be posted in this section for people to review in the coming days.
Update Changelog 100
PAYDAY 2 bundle files have been split up into smaller parts. Instead of having 15 files that are 1.5 GB each, we now have 60 files that are 400 MB each. What that means is that it will require less harddisk space to install a patch.
For example: If you have a patch that is 10 MB, then you need to make an backup of the 1.5 GB file which will require a disk space of 1.5 GB + 10 MB. With smaller files it will require a disk space of 410 MB instead.
Update Size: 6.4GB
General
Fixed a crash when receiving a new safe before the game has been updated
Fixed a graphical issue when switching Skill Sets when having the Maniac or the Anarchist perk deck selected
Fixed an issue that caused two lives of the player to get deducted when getting tased while under the effect of swan song
Fixed an issue where the new item symbol next to the Inventory would reappear after restarting the game
Swan song will now activate after landing, if the player was downed while using a zipline
Fixed an issue where clients didn't receive a message when a player revived another player using the Inspire skill
Trip Mines placed by clients will not damage the Team AI
Added Parallax Rendering as an option in the Advanced Video Settings in the Options menu
Added SMAA Anti Aliasing as an option in the Advanced Video Settings in the Options menu
Added the option to turn off the default FXAA Anti Aliasing as an option in the Advanced Video Settings in the Options menu
Added SSAO Low Ambient Occlusion as an option in the Advanced Video Settings in the Options menu
Added SSAO High Ambient Occlusion as an option in the Advanced Video Settings in the Options menu
Added the option to turn off the default AOB Ambient Occlusion as an option in the Advanced Video Settings in the Options menu
Fixed an issue where Jimmy, as a Team AI, would be called Sokol
Art
Added decapitation to the Mercenary Cloaker when using a Katana Melee Weapon while playing as Jiro
Added head trauma to the Mercenary Taser when using a Platypus 70 Sniper Rifle while playing as Bodhi
Fixed an issue that caused special enemies to show multiple LOD steps at the same time
Sound
Fixed an issue where a sallad destruction sound would sound like glass breaking
Fixed an issue where throwing a Molotov could play a Grenade sound
Weapons
The Heather SMG can now use the Milspec Scope
Fixed an issue where an incorrect weapon modification could drop for the Saiga Shotgun
Steam Market
The Sputnik Safe and Drill will not drop in the end of heist Loot Drop
The Bodhi Safe and Drill will not drop in the end of heist Loot Drop
The Wolf Safe and Drill will not drop in the end of heist Loot Drop
The Crimefest 2 Safe and Drill will not drop in the end of heist Loot Drop
The Dallas Safe and Drill will not drop in the end of heist Loot Drop
The Jimmy Safe and Drill will not drop in the end of heist Loot Drop
The Sydney Safe and Drill will not drop in the end of heist Loot Drop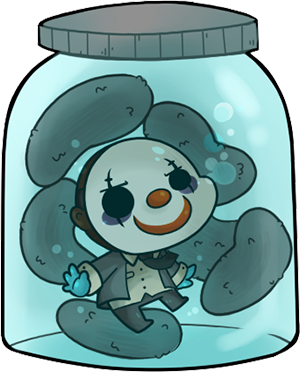 (Courtesy of: http://mdlune.tumblr.com/)
Levels
Aftershock

Fixed navigation issues in the construction yard that caused the Team AI not to follow the player
Fixed an issue where the Team AI could get stuck inside of the house in the construction yard

Alesso Arena

Fixed a small graphical issue near the stairs to the upper floor

Beneath The Mountain

Fixed an issue where loot bags could get stuck under the helicopter
Fixed an issue where players could fall through the world when opening the door to the compound
Fixed an issue where the players could get stuck behind a concrete block outside of the control room

Birth of Sky

Fixed a missing collision on the roof of the Car Shop after the windows break

Counterfeit

Fixed an issue where the players could get stuck behind the door to the basement
Added yellow outlines to the power boxes when the enemies turn off the power
Removed invisible collisions in the basement

Escape: Park

Fixed an issue where players could see through a wall

Firestarter Day 1

Fixed an issue where the players could get stuck behind some boxes in the first hanger to the right

Framing Frame Day 3

Fixed an issue where players could walk into the computer room multiple times to increase their experience reward

Goat Simulator Day 1

Fixed an issue where players could bypass the fire and debris without turning off the sprinklers

Goat Simulator Day 2

Fixed an issue where players could get stuck behind the door to the bridge control room
Fixed an issue where players could get access to the bridge before the goats had been secured
Fixed an issue where the poison gas would not properly damage the player

Golden Grin Casino

Fixed an issue that caused debris to get stuck in the air
Added a missing debrief line to the heist summary screen
Fixed an issue where clients would not be able to pick up their gear from the guitar case if the host picks it up before them

Hoxton Breakout Day 1

Fixed an issue where the Team AI could get stuck in the elevators

Hoxton Breakout Day 2

Fixed an issue where players could walk through a part of the railing
Fixed an issue with a bench

Hoxton Revenge

Fixed an issue where the Thermal Drill would not respawn when thrown into the river

Mallcrasher

Fixed an issue with the animation of the police cars driving in when the alarm goes off

Murky Station

Fixed an issue where the Blowtorch effect would not be visible from both sides

Santa's Workshop

Fixed a issue where lamps would keep glowing after being shot
Fixed an issue where the players could get stuck behind the snow cannons

The Bomb: Forest

Fixed an issue where the ambience audio was playing the wrong file

The Diamond

Fixed an issue with lamps

Transport: Crossroad

Fixed an issue where loot bags could get stuck on a ledge above a store window

Undercover

Fixed an issue where players could jump into a room that was not part of the intended playable area

Watchdogs Day 1

Fixed an issue where the players could get stuck behind the door to the balcony leading to the left loot drop-off point

Watchdogs Day 2

Fixed an issue where loot bags could get stuck behind a bike